The Great Lesotho Traverse – La genèse
L'idée de ce bike trip familial a commencé à germer début septembre, à notre retour de France. En effet, le Lesotho faisait partie de notre liste de pays à visiter, et le seul moment de l'année où Emmanuelle, Capucine et Léna étaient en vacances ensemble était Noël.
Nous prenons donc rapidement la décision de faire en voyage au Lesotho, et tant qu'à être fun, autant le faire à vélo, en mode bikepacking.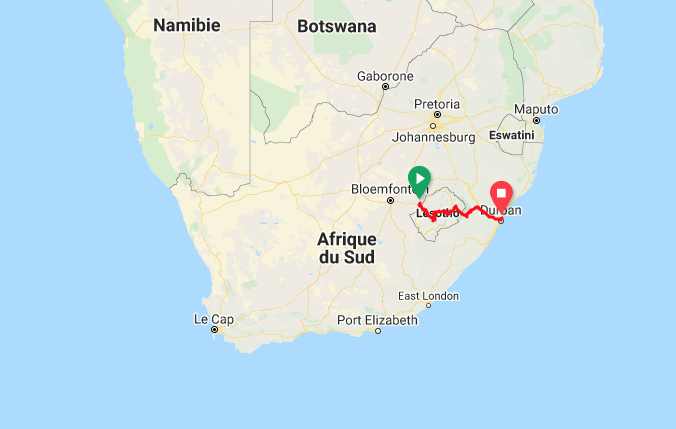 Dès septembre, je me suis donc mis à réfléchir au parcours, à la logistique et au matériel. Je découvre alors l'article de Logan Watts dans bikepacking.com (https://bikepacking.com/routes/lesotho-traverse/), qui s'avère être riche d'informations utiles… pendant plusieurs semaines, nous allons mûrir notre itinéraire qui sera finalement validé après notre week-end test entre Grabouw et Greyton.

La réalisation
J-3 – Lundi 21 Décembre 2020
Pour entrer au Lesotho, il nous faut fournir des test COVID négatifs de moins de 72h. Nous trouvons donc un laboratoire pour réaliser les tests en questions en début d'AM.
En théorie, nous devons recevoir les résultats le lendemain matin et pouvoir partir le mardi ou le mercredi.
En parallèle, les 4 paires de roues envoyées par DT Swiss France, arrivent enfin dans l'après-midi après avoir été bloquées quelques jours en douane.
J-2 – Mardi 22 Décembre
Nous recevons les résultats par SMS au compte goutte, d'abord Léna en début de matinée, puis Capucine, puis moi-même ,et enfin Emmanuelle dans l'après-midi. Fort heureusement, ils sont tous négatifs ! Ouf … Je réserve alors les billets de bus et confirme les premiers hébergements.
Emmanuelle se débat au téléphone pour recevoir une preuve écrite de nos tests négatifs … c'est très compliqué ! Le soir même nous n'avons toujours pas de certificats ni pour elle, ni pour moi.
J-1 – Mercredi 23 Décembre
Toujours pas de certificats… nous prenons donc la décision de nous rendre au labo à 30min de route. Une longue queue s'étend dans la rue. Nous obtenons laborieusement les sésames, et à 16h30 nous voilà dans l'après-midi à la gare routière pour enfin prendre un bus Intercape allant du Cap jusqu'à Ladybrand.
The Great Lesotho Traverse peut enfin débuter !!!
---
ÉTAPE 1
Jeudi 24/12
Ladybrand (AFS) – Roma (Lesotho)
60km / 860m D+ / 4h13
Itinéraire Bikepacking : https://www.strava.com/activities/4522775654
« The Kingdom in the Sky ! »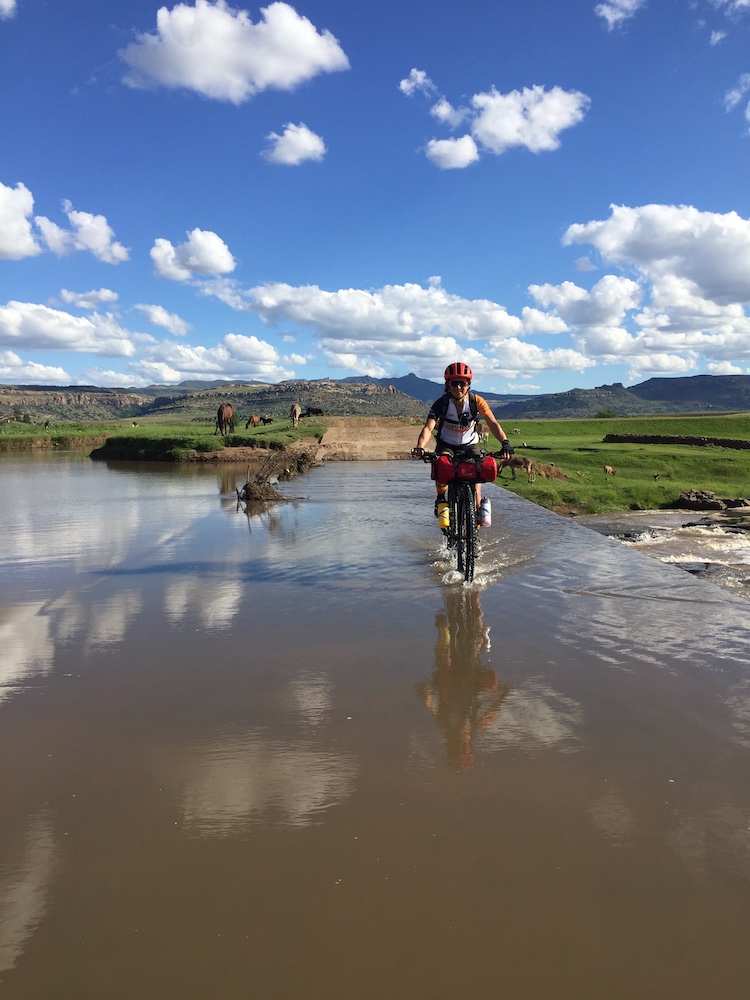 Notre nuit a été courte car une passagère a chanté « comme un rossignol » jusqu'à 3h du matin sans modération, ni consideration pour les autres passagers. Vers midi, nous débarquons à Ladybrand après 14h de bus. Je monte nos 4 vélos devant le garage d'Ali qui nous observe avec curiosité. Sur les coups de 13 heures les premiers tours de roue sont donnés en direction du poste frontière de Maseru, où nous devons entrer au Lesotho.
Les 15 kilomètres de route sont rapidement avalés, et nous voilà devant la douane Sud-africaine. Il n'y a pas grand monde, et les formalités se font relativement rapidement. On présente nos tests Covid, puis on nous prend la température au poignet. Même s'il fait très chaud, elle est entre 36 et 37°C pour nous 4.

Vers 14h, nous sommes heureux d'entamer la traversée de Maseru. Celle-ci s'avèrera assez mouvementée, avec beaucoup de circulation dans tous les sens : chaotique !

Une heure plus tard, nous arrivons vers l'aéroport, et nous retrouvons la campagne et ses premières pistes de terre battue. Les paysages sont magnifiques et la lumière étincelante… ce pays porte bien son nom : The Kingdom in the Sky.
Malheureusement nous avons mal anticipé nos besoins en eau, et nous nous retrouvons rapidement un peu déshydratés. Léna et Capucine sont fatiguées, et cette fin d'étape s'avère très vallonnée. Cette mise en route est un peu dure.
Vers 18h30 nous arrivons enfin au "Roma Trading Post Lodge", qui nous accueille pour la nuit. Ayant été fermés pendant plus de six mois, ils ne peuvent pas nous préparer de repas de Noël ; nous devons donc aller faire quelques courses dans la seule épicerie du village, située tout en haut d'une longue côte.
Le menu de Noël fût assez frugal, mais on se régale avec un œuf dur, un peu de riz et quelques rondelles de concombre. On se souviendra longtemps de ce réveillon de Noël 2020 !
---
ÉTAPE 2
Vendredi 25/12
Roma (Lesotho) – Ramabanta (Lesotho)
38km / 987m D+ / 2h46
Itinéraire Bikepacking : https://www.strava.com/activities/4522775729
« Best customers of the day ! »
En ce jour de Noël, après une nuit réparatrice de plus de 10 heures, nous reprenons la route pour la seconde étape qui doit nous mener à Ramabanta.
Compte tenu de la fatigue induite par le voyage + de la première étape + surtout de la légère déshydratation de la veille, nous faisons le choix de rester sur la route sans nous aventurer sur les chemins ardus de la région. À la sortie de Roma, c'est une côte de 4 km à plus de 8 % qui nous attend. De nombreux taxis-bus surchargés sont arrêtés en surchauffe, sur le bord de la route.
A mi-étape, nous nous ravitaillons chez « Georges » qui nous reçoit dans sa petite échoppe de bord de route. Avec l'achat de huit bananes, deux poires et dix sachets de mélange cacahuètes/raisins secs, nous sommes élus « best customers of the day ». Il est tout heureux de nous avoir reçus en ce jour de Noël. La transaction s'est agrémentée d'une discussion animée autour du football, tant européen qu'africain. Il connait l'Olympique de Marseille, je suis content.
En fin de matinée, nous arrivons à Ramabanta où Elisa nous attend au Maluti Stay Lodge. Nous sommes les seuls clients de ce grand hôtel. Après une courte négociation, elle nous prépare un lunch fort apprécié : poulet au curry, riz et épinard. L'après-midi est dédié à une sieste fort bienvenue, et à la préparation des vélos pour la troisième étape : petits réglages, nettoyage des chaînes, ajustement des pressions des pneumatiques …
---
ÉTAPE 3
Samedi 26/12
Ramabanta (Lesotho) – Semonkong (Lesotho)
42km / 1346m D+ / 6h41 de roulage et portage
Itinéraire Bikepacking: https://www.strava.com/activities/4522919876
« On se souviendra toute notre vie de Baboons Pass ! »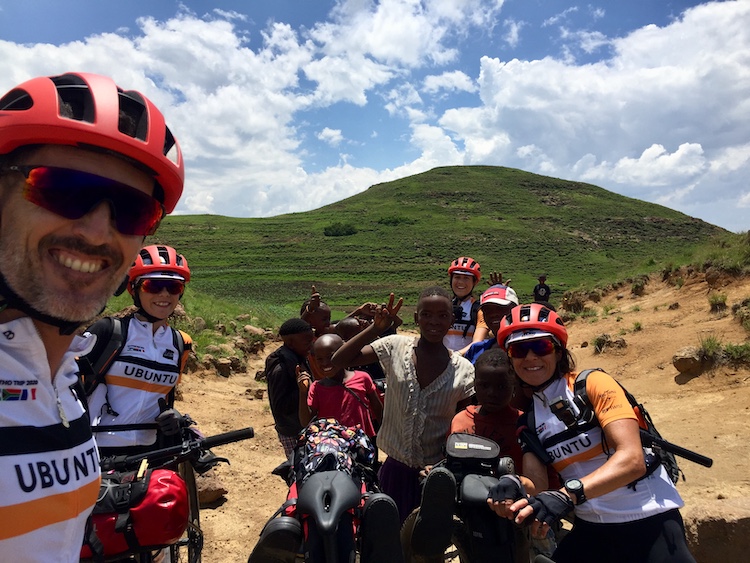 Cette troisième étape pourrait s'intituler enfer et paradis, tant elle était dure mais aussi révélatrice de la force mentale de nos filles.
En effet, nous décidons de faire la première partie du parcours en mode tout-terrain en passant par la montagne, et par le redoutable Baboons Pass (le col des babouins). Malheureusement pour nous, ces 20 km de VTT se sont avérées BEAUCOUP plus durs qu'envisagé sur la carte. Outre, les forts pourcentage du départ, il nous a fallu franchir d'innombrables pierriers défoncés par les récentes pluies, où il a fallu porter les vélos. Ces sections de portage sont véritablement épuisantes avec des vélos chargés de 10 à 20 kg d'équipements divers.

En fin de matinée, Emmanuelle perd le contrôle de notre drône qui disparait dans la vallée après 10-15 minutes de vol. On est dégoutés car les images promettaient d'être superbes. Seul point positif : cela allège le sac à dos d'Emmanuelle qui était un peu trop lourd à mon goût pour un tel périple.
À 16h, nous arrivons finalement au sommet du col, qui n'est qu'au premier tiers de notre étape. L'orage gronde et la tension monte d'un cran car nous ne voyons pas la fin de cette piste interminable…
Après la descente du col, il nous faut encore contourner le mont Thaba Putsoa (3096m) sur des chemins « inroulables ».
Emmanuelle et moi commençons à envisager l'option de dormir dans un village ou de bivouaquer en montagne, si nous ne faisons pas rapidement la jonction avec la route de Semonkong.
Fort heureusement vers 18 heures au détour d'un énième petit col nous apercevons enfin la route : Joie, larmes, délivrance !

Après 20 km principalement descendant, menés à vive allure, nous arrivons finalement au Semonkong Lodge dans la nuit noire.
Nous avons passé 12h dans la montagne !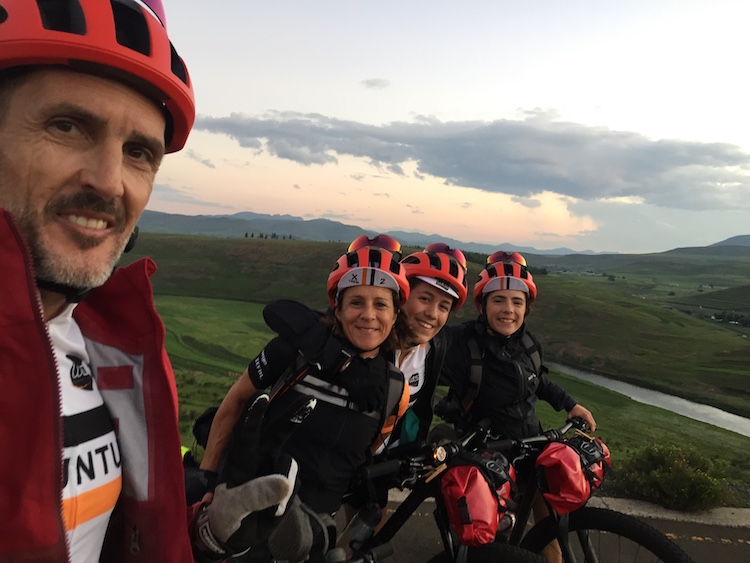 La douche, le dîner reconstituant et le lit douillet, nous permet de digérer la fatigue et les émotions du jour !
---
ÉTAPE 4
Dimanche 27/12
Semonkong Falls (Lesotho)
5km / 157m D+ / 1h11
Itinéraire Bikepacking : https://www.strava.com/activities/4537619375
« The Place of Smoke »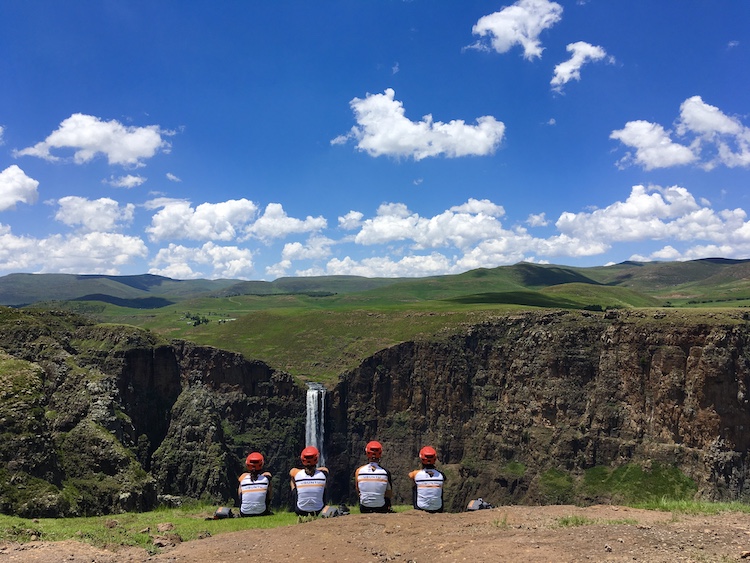 Pour ce premier jour de repos, nous décidons d'aller visiter les chutes de la rivière Maletsunyane, les Semonkong Falls, qui seraient les plus hautes d'Afrique avec une hauteur de 186 m. Pour cette « étape », nous optons pour des Basotho Horses, ces petits chevaux parfaitement adaptés aux montagnes locales. Après 30 minutes à cheval, nous atteignons les chutes. Le paysage est sublime. Tout au fond de la gorge, le nuage permanent de gouttelettes permet de mieux comprendre le nom du lieu : the Place Of Smoke (ou Semonkong).
L'après-midi est consacrée à la préparation de la quatrième étape, la plus engagée de notre périple. D'ailleurs je passe une partie de la soirée à essayer de trouver le meilleur itinéraire pour rallier Mantsonyane demain soir. Sans carte IGN, ni informations précises données par les locaux, ce n'est pas évident de prendre des décisions !
---
ÉTAPE 5
Lundi 28/12
Semonkong (Lesotho) – Latsetse (Lesotho)
69km / 1446m D+ / 6h de roulage
Itinéraire Bikepacking : https://www.strava.com/activities/4542594499
« Rendez-vous en terre inconnue »
Sachant le parcours difficile, nous nous levons à 6h du matin afin de partir tôt. Le très accueillant staff du Semonkong Lodge, nous a préparé un superbe breakfast. À 7h04, le départ de l'étape est donné avec l'objectif de rallier Mants'onyane lodge dans la soirée.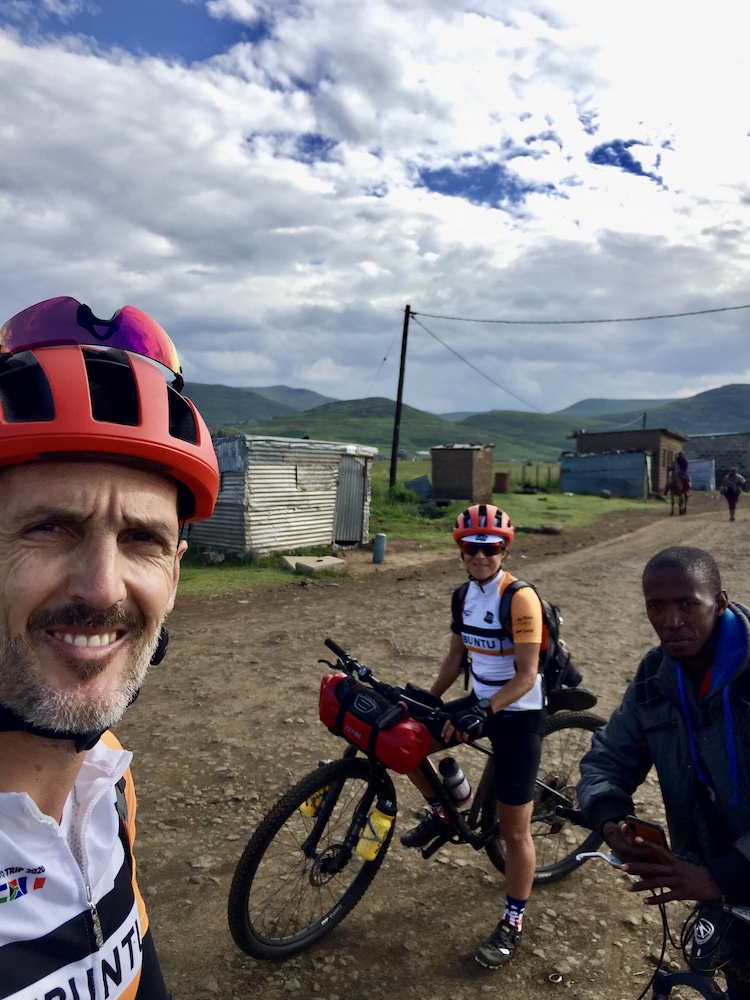 Malheureusement je me trompe une première fois en faisant faire un tour d'échauffement à la famille autour de l'aérodrome de Semonkong. Fort heureusement, nous croisons Motsamaï, un cycliste local qui nous remet sur la bonne piste.
S'en suit alors une succession de montées et de descentes dans des paysages somptueux.
Nous croisons la route de cavaliers Basuto, de bergers gardant leurs bétail, de paysans labourant leurs champs…
Au kilomètre 21, il faut prendre une décision stratégique sur notre itinéraire : soit rester sur la piste principale, soit s'enfoncer dans les Gorges de la Maletsunyane River et remonter sur l'autre rive.
Après avoir interrogé quelques bergers locaux, je décide de quitter l'itinéraire GPS préconisé par Logan Watts dans Backpacking.com, et de rester sur la piste principale.
Avantage : c'est plus roulant et nous ne risquons pas de nous perdre (l'épisode 'Baboon Pass' m'a un peu refroidi). Inconvénient : ce sera plus long temps en terme de distance, que de temps passé sur le vélo. Nous poursuivons donc notre chemin en direction de Mokonkong, puis Marakabei, et peut-être Mantsonayne si nous roulons bien.

Vers 17 heures, nous sommes encore très loin de notre objectif, je propose donc au reste de la famille de demander l'hébergement au prochain village que nous trouverons sur notre chemin.
Finalement, nous arrivons à un joli village perché en hauteur au-dessus de la piste. Le berger assis au bord du chemin ne comprend pas un mot d'anglais, et encore moins de français. Nous adoptons alors le langage universel des signes : « dodo » , « manger » , « money ». Malheureusement, nous avons du mal à communiquer clairement, et il ne peut probablement pas prendre ce genre la décision de nous accueillir. Nous sommes à deux doigts de repartir pour tenter notre chance dans le village suivant, quand un vieil homme nous rejoint, c'est le chef du village. La communication est difficile mais notre requête semble avoir été comprise.
Entre-temps un groupe d'enfants est venu assister à nos palabres, bientôt rejoints par plusieurs jeunes femmes du village, qui elles parlent un peu anglais. Après moult échanges entre eux (30 minutes environ), ils acceptent finalement de nous accueillir pour la soirée. "Yes, it's Ok". Soulagement !
Nous comprendrons a posteriori qu'ils n'ont jamais accueilli de voyageurs étrangers dans leur village. Débute alors l'épisode « Rendez-vous en terre inconnue de notre aventure » ! Tout le village vient nous saluer, puis nous accompagne à notre Rondavel (petite case traditionnelle de forme circulaire avec un toit de chaume).
On nous apporte un banc une chaise et une bassine avec une carafe d'eau, pour nous rincer les jambes et les bras couverts de boue. Dans ce petit village d'une vingtaine de cases, il n'y a ni eau courante, ni électricité.
Chacun d'entre nous fait ses ablutions devant les enfants du village qui nous observent avec beaucoup de curiosité et d'excitation. Un vrai spectacle. Bikepacking
Puis vient l'heure du repas donné devant la case de la doyenne du village, qui nous apprend qu'elle n'a jamais quitté sa vallée. Au menu mouton bouilli, épinards hachés et riz. C'est délicieux. Nous arrivons à échanger avec les villageois qui nous apprennent quelques mots de Sotho, tout en rigolant de notre prononciation. Le moment est très convivial.
La nuit dans la case sera assez agitée entre la musique écoutée par les jeunes du village, les puces nichées dans les couvertures, et la rudesse du matelas. Bikepacking
Néanmoins, on passe la nuit au sec et au chaud. Bikepacking
---
ÉTAPE 6
Mardi 29/12
Latsetse (Lesotho) – Thaba Tseka (Lesotho)
61km / 1691m D+ / 5h50 de roulage
Itinéraire Bikepacking : https://www.strava.com/activities/4545160504
« Wasp attack »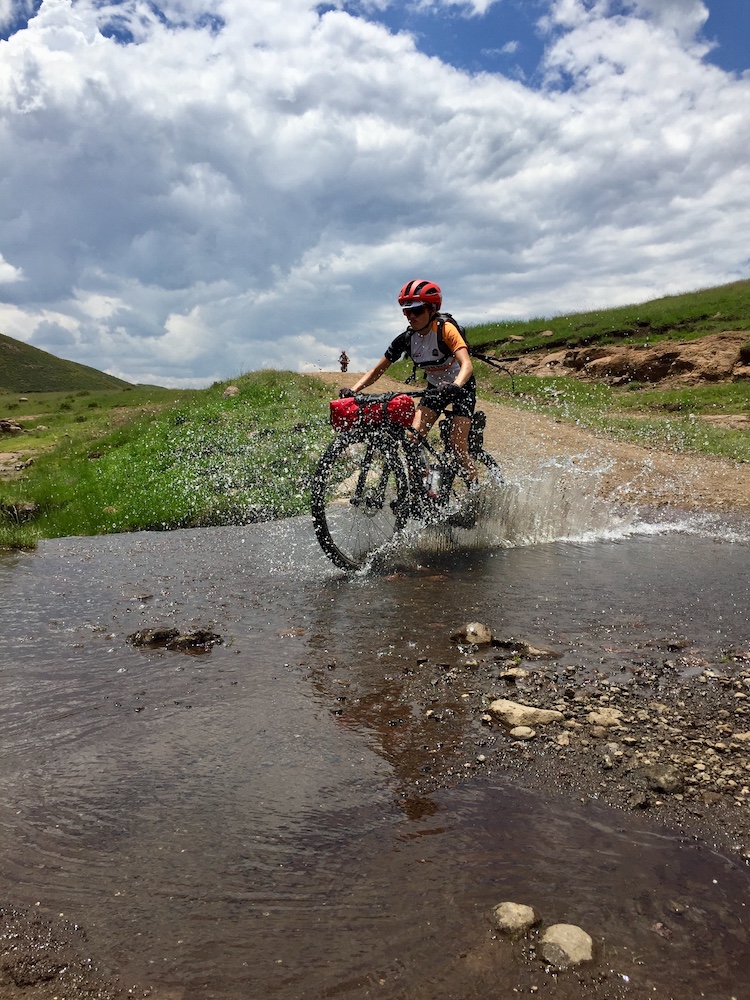 Dès le réveil, vers 6h du matin, nous nous équipons tout en avalant un thé chaud. Il n'y aura pas de réel petit déjeuner ce matin. Au moment de partir, nous dédommageons nos amis pour leur accueil (500 malutis, soit 20€).

Et nous sollicitons de faire une photo de groupe. Comme ils sont relativement bien équipés en téléphones portables rechargés avec un petit panneau solaire, nous échangeons nos numéros de téléphone. Nous apprenons alors que certaines des jeunes femmes du village sont sur Facebook. Sidération ! C'est dans ce genre d'instant que vous réalisez la puissance du concept.
Peu de temps après, nous reprenons la piste avec l'objectif de rallier Thaba Tseka en fin de journée. Nous continuons à enchaîner les montées assassines et les descentes rapides, sur cette piste par moment défoncée. En fin de matinée, nous rejoignons enfin la route qui doit nous mener successivement à Marakabei, Mantsonyane et à notre hébergement du jour, Motherland Guesthouse, située à Thaba Tseka.
A Marakabei, nous faisons quelques emplettes pour le picnic. À la sortie de l'épicerie un homme édenté me propose du Cannabis que je refuse sous prétexte que j'ai encore plusieurs cols à gravir … LOL.
Nous pique-niquons au bord d'un petit ruisseau sous le regard d'enfants curieux et amusés. Au menu : jus de fruit, un bout de pain brioché, une tomate et quelques cous de poulet grillés, payés 1 maluti l'unité.
Nous repartons sur la route sous un soleil de plomb, où nous trouvons rapidement une montée assassine, comme le Lesotho en présente tant. Je frise la surchauffe tout comme le reste de la family …
Après une dizaine de kilomètres de grimpette, nous atteignons le sommet à 2550m d'altitude, et basculons vers Mantsonyane où nous allons vivre la péripétie la plus marquante (et douloureuse) de notre aventure. Après six heures de pédalage, nous commençons à être fatigués et pressentons que la fin d'étape longue de 45km risque d'être très pénible. Nous nous arrêtons alors dans une épicerie pour acheter quelques fruits, et surtout pour solliciter un « lift » de la part de l'épicier, qui possède un superbe van.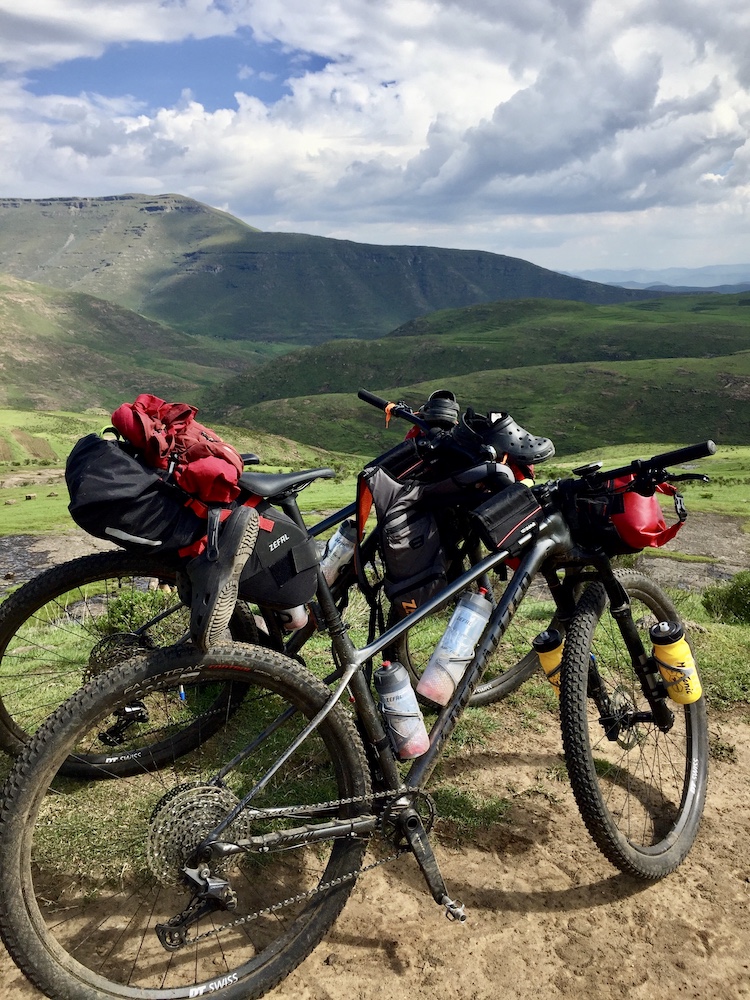 Après une courte négociation, celui-ci accepte de nous conduire jusqu'à notre hébergement du jour. Je commence à démonter les roues avant de nos Specialized Chisel, et lui demande un bout de carton pour caler les plaquettes des freins à disques. En déplaçant le carton en question dans l'épicerie, je dérange alors un nid de guêpes cachées à cet endroit. Survient alors un épisode aussi improbable que douloureux : nous sommes littéralement assaillis par les guêpes qui nous piquent à de multiples reprises. Dans la panique, nous nous enfuyons à pied sur la route. Nous ne comprenons pas ce qu'il nous arrive, et nous sommes obligés de nous réfugier dans une case du village, face à l'agressivité des guêpes qui attaquent toute personne dans un rayon de 100 m autour de l'épicerie. Nous sommes choqués et nous ne voyons pas comment nous allons récupérer nos vélos et nos bagages restés au sol devant l'épicerie. Au bout d'une heure cloîtrés, je tente une sortie afin d'essayer de récupérer notre matériel… La sanction est immédiate je suis de nouveau assailli par les guêpes. Je bats en retraite dans la case où sont toujours réfugiées Emmanuelle, Lena et Capucine avec 20 à 25 autres villageois. Finalement, les guêpes se calment un peu et nous pouvons récupérer nos vélos, aidés par quelques bergers protégés par leurs habits traditionnels constitués de bottes en caoutchouc, d'une épaisse couverture, et d'une cagoule en laine. Le chef du village qui était à l'épicerie au moment de l'attaque nous propose très gentiment de nous transporter avec son 4×4 jusqu'à notre hébergement, situé 45 km plus loin. Pendant le trajet nous décompressons enfin (les filles sont en larmes), et savourons le fait d'être en voiture car la pente est rude et l'orage gronde. D'ailleurs, la fin du trajet se fait sous des trombes d'eau cernés par les éclairs et les coups de tonnerre.

Le dîner est rapidement avalé. Nous sombrons dans les bras de morphée épuisés par cette longue et difficile journée. On ne réalise toujours pas ce qu'il nous est arrivé…
---
MERCREDI 30/12
Journée de repos entre Thaba Tseka et Mokhontlong
102km / 2800m D+ en taxi bus
« Grosse fatigue »
Le réveil est douloureux. Emmanuelle, Capucine et moi qui avons tous été piqués 15 à 20 fois sommes gonflés et nauséeux. Il est évident que l'on ne va pas pouvoir rouler aujourd'hui, tant nous sommes fatigués. Je pars alors en quête d'une navette pour rallier Mokhontlong en voiture.
Après de longues heures de discussion et de négociation, nous trouvons finalement un taxi-bus qui accepte de nous transporter avec nos quatre vélos. S'en suit alors 3h30 de piste défoncée, à être secoués comme des sacs de pommes de terre à l'arrière du petit van Toyota aux pneus complètement lisses. C'est loin d'être reposant mais l'enchaînement interrompu de cols, nous fait réaliser que cette étape aurait été très difficile à vélo. Vers 18 heures nous rallions Mantsebo Guest House, au pied du mythique Sani Pass.
---
JEUDI 31/12
Journée de repos à Mokhontlong Bikepacking
Itinéraire Bikepacking : https://www.strava.com/activities/4543822758
« Un réveillon mémorable à Mokhotlong »
Au réveil, nous constatons une nouvelle fois que nous sommes très fatigués et encore gonflés par les piqûres de guêpes. À l'évidence il ne sera pas possible de gravir les 35km de Sani Pass aujourd'hui.
Nous décidons donc de passer la journée du 31 décembre à la guest house pour finir de récupérer, d'ailleurs Capucine passe une partie de la journée à dormir. Pour ma part, je me sens un peu mieux et j'entreprends une petite excursion vers le centre ville de Mokhontlong afin de retirer de l'argent et acheter un peu de ravitaillement. J'en profite aussi pour tenter de regonfler ma fourche qui est un peu « molle », une fois le vélo lesté de ses sacoches Zéfal. Pas simple de regonfler au compresseur. Il me manque clairement une petite pompe haute pression. A noter pour le prochain trip.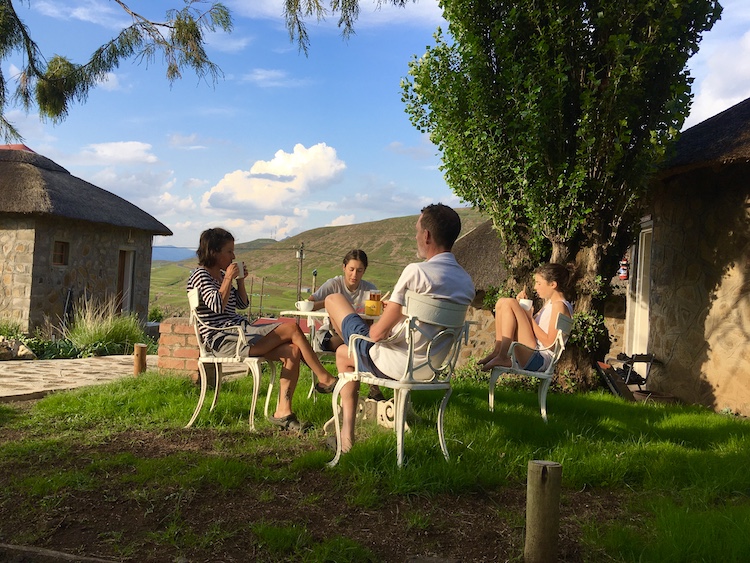 Tout comme le réveillon de Noël, la soirée de la Saint-Sylvestre sera très « festive » : nous sommes les seuls clients de la Guest House, l'alcool est interdit à la vente du fait des restrictions liées au coronavirus, et le cuistot nous sert exactement le même menu que la veille à savoir purée de pommes de terre, épinard hachés et ragoût de moutons. Pour la grosse fiesta, on repassera !
---
ÉTAPE 7
Vendredi 1/1
Mokhontlong (Lesotho) – Sani Pass (AFS)
48km / 1413m D+ / 3h40 de roulage
Itinéraire Bikepacking : https://www.strava.com/activities/4548325625
« Jour de l'an à Sani Pass »
En ce 1er janvier 2021, nous nous sentons mieux et nous décidons donc de nous élancer pour cette 7ème étape de vélo, qui nous fera passer par le point culminant de notre traversée, à savoir Sani Pass , et ses 3240 m d'altitude.
L'Ascension se fait sous un ciel gris avec un petit vent dans le dos appréciable. La route est très propre il faut dire qu'elle a été financée et construite par les Chinois il y a quelques années. Après 20 km de faux-plat, on rentre dans le vif du sujet, avec de très forts pourcentages (15-20%) qui m'obligent à tracter Capucine qui n'est pas au top.

J'incite tout le monde à presser un peu l'allure car j'aperçois la pluie qui remonte la vallée, à notre poursuite. Cela ne loupe pas le dernier kilomètre d'ascension est effectué sous une pluie battante qui nous oblige à enfiler nos vestes « Gore-Tex » pour la première fois. Il fait 6-7°C (ressenti 2-3°C), et la descente vers la frontière entre le Lesotho et l'Afrique du Sud ne va pas être une partie de plaisir. Après 45 minutes de descente, nous arrivons au poste-frontière grelottants et trempés jusqu'à l'os. J'ai beaucoup de mal à extraire les passeports du sac à dos, dans ces conditions. Les douaniers lesothiens nous informent alors que le Sani Mountain Lodge est ouvert. Nous y trouvons un poêle ronflant et des chocolats chauds qui nous permettent de nous réchauffer rapidement. Voyant qu'il continue de pleuvoir, et que le brouillard s'est levé, il est impossible d'envisager la fin de la descente de Sani Pass (qui devient une piste) dans des conditions de sécurité optimales. Nous décidons de passer la soirée dans ce Lodge très accueillant et confortable. Le froid m'a détraqué le ventre, et je passe une partie de l'après-midi aux toilettes. Heureusement, nous avons pris soin d'emporter du cumin et de l'immodium avec nous. La soirée au Sani Lodge sera très agréable, après cette journée somme toute assez difficile.

---
ÉTAPE 8
Dimanche 2/1
Sani Pass (AFS) – Himeville (AFS)
24km / 57m D+ / 1h30 de roulage
Itinéraire Bikepacking : https://www.strava.com/activities/4587084027
« Retrouvailles avec le COVID »
Au réveil, nous avons le plaisir de constater que la pluie a cessé, et que nous sommes au-dessus d'une mer de nuages. Après un petit déjeuner reconstituant, nous profitons du réseau wi-fi pour répondre à divers messages et animer notre compte Instagram The Bicycling Family (@thebicyclingfam). Vers 10 heures, nous nous élançons pour la fameuse descente de Sani Pass, connue de tous les sud-africains amoureux de nature. La première partie de la piste est en très mauvais état, et nous apprécions d'avoir des bons VTT semi-rigides équipés de fourches Rock Shox. Après 9 km, nous arrivons finalement au poste frontière sud-africain, où nous allons devoir faire la queue pour réaliser un test Covid que nous espérons tous être négatif. L'attente est assez longue, car il y a une trentaine de personnes qui attendent devant nous pour obtenir ce sésame et entrer en Afrique du Sud. Finalement, vient notre tour, et quelques minutes après nous obtenons les résultats : tous négatifs ! Ouf… nous allons pouvoir poursuivre notre périple au Kwazulu-Natal.
La suite de la descente de Sani Valley est moins raide, alternant même les petites sections de montée avec des portions descendantes. Même s'il fait toujours gris, le paysage est magnifique. Très verdoyant. De nombreuses cascades tombent des falaises de part et d'autres de la route.
On se croirait dans un paysage du monde originel. Des êtres humains vivaient dans cette vallée, il y a plusieurs centaines d'années.
Nous arrivons finalement à notre hébergement : le Sani Lodge Backpackers. Les Backpackers sont des hébergements à la croisée de la chambre d'hôte et de l'Auberge de jeunesse. C'est très convivial et pas du tout formaté. On y rencontre souvent des jeunes voyageurs du monde entier. Malheureusement dans la période actuelle il n'y a presque aucun étranger. Nous faisons néanmoins la connaissance d'un touriste chinois solitaire qui souhaite voyager au Lesotho. Vu le contexte, cela va être compliqué pour lui d'y entrer.
---
ÉTAPE 9
Lundi 3/1
Himeville – Nottingham Road
102km / 2105m D+ / 7h de roulage
Itinéraire Bikepacking : https://www.strava.com/activities/4561972661
« Record de distance battu pour les filles ! »
Cette dernière grosse étape de plus de 100 km, doit nous faire traverser une partie du sud Drakensberg pour nous amener jusqu'aux Midlands. Malheureusement, il se met à pleuvoir pendant notre petit-déjeuner. Nous préssentons que la journée risque d'être difficile sur le vélo. Je décide donc de préparer des bidons de thé chaud, et de couvrir nos jambes d'huile chauffante afin de résister à ces conditions fraîches et humides. Fort heureusement, la pluie se calmera au moment du départ donné sur une partie de route asphaltée. Après 10 km, nous tournons à gauche, et c'est parti pour 60 km de piste boueuse. Quelques 4×4 nous doublent et nous aspergent d'eau boueuse. Les filles ne sont pas contentes ! Comme la pluie redouble, nous sommes obligés d'enfiler nos « Gore Tex » une nouvelle fois. Elles seront rapidement maculées de boue, mais offrent une bonne protection contre l'humidité.
En fin de matinée, nous passons dans un premier village qui héberge exclusivement des familles noires. Pendant la période de l'apartheid (1913 à 1991), ces villages, souvent éloignés des fermes ou des villes, accueillaient les populations noires. Le régime ségrégationniste faisait en sorte de positionner ces villages le plus loin possible des populations blanches, obligeant les travailleurs à faire de longues heures de marche ou de bus, pour rejoindre leur lieu de travail. Cette époque est forte heureusement révolue, mais les villages sont restés, et les habitants doivent toujours se déplacer pour faire leurs courses ou aller travailler.
À la sortie du village, une côte raide nous attend et comme c'est dimanche, un certain nombre d'habitants nous regardent passer en nous encourageant. Nous sommes dans la plus longue montée de la journée (14km à 4,1%), celle qui longe la Lotheni Mountain. Le paysage qu'offre ce massif est absolument somptueux. Cela donne vraiment envie de revenir. Comme les filles commencent à fatiguer, nous nous arrêtons brièvement au bord de la route pour avaler nos petits sandwichs de pain de mie, réalisés lors du petit déjeuner, accompagnés de barres Meltonic. Nous ne nous attardons pas car le temps est menaçant, et il nous reste encore une bonne cinquantaine de kilomètres à parcourir.
Nous longeons de grandes et magnifiques fermes, sur cette seconde partie d'étape. Ici, on y fait principalement de l'élevage extensif : vaches, moutons, chèvres. Capucine souffre de plus en plus de son trapèze droit. Plus précisément de son sterno-cléido-occipito-mastoïdien (SCOM) mis à mal lors des premiers portage dans Baboons Pass (3ème étape). Cette douleur lancinante et croissante accapare tout son esprit. Je reste avec elle et l'aide avec mon système de traction, non breveté mais très efficace. Nous ferons toutes les montées raides de la sorte, tel un tandem.. Pendant ce temps, Emmanuelle et Lena caracolent en tête. Léna est euphorique, motivée par la perspective de battre son record de distance à vélo.
Finalement après 70 km parcourus, nous retrouvons la route. Celle-ci est assez accidentée, cela monte et cela descend sans cesse. Nous atteignons néanmoins "Nottingham Road" en fin de journée où nous nous installons au Notties Hotel, véritable institution dans la région. En effet, cet hôtel existait déjà au XIXe siècle, car situé sur l'axe stratégique Durban – Johannesbourg. Nous y sommes très bien accueillis, et c'est très confortable. Après une bonne douche, et une session lessive incontournable pour les maillots et les cuissards, je m'inquiète du dîner. Je fais donc un saut au restaurant pour m'enquérir des horaires de service. Il est 19h28 et la responsable du restaurant m'apprend que la cuisine ferme à 19h30. Branle-bas de combat ! il faut réagir très rapidement pour manger ce soir. Je rameute le reste de la famille pour commander. Notre menu du soir comportera des pâtes, une pizza, une salade et un fish and chips. Je rêvais d'une bière pression, mais malheureusement les restrictions en cours interdisent toute vente d'alcool en Afrique du Sud. On se contentera d'eau gazeuse…
---
ÉTAPE 10
Lundi 4/1
Nottingham Road – Pietermaritzburg
51 km / 451 m D+ / 2h31 de roulage
Itinéraire Bikepacking : https://www.strava.com/activities/4567438125
« Visite émouvante à Nelson Mandela Capture Site Museum »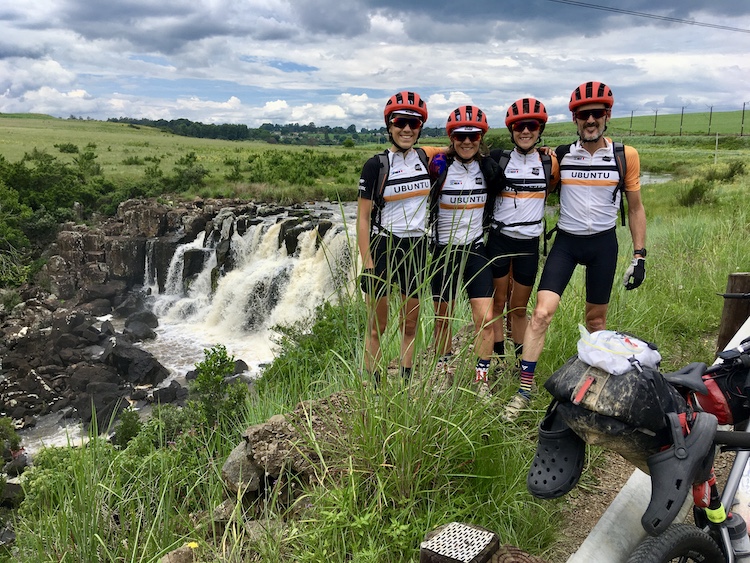 Nous nous réveillons sous un beau et chaud soleil vers 7h du matin, avec un bon petit déjeuner qui nous attend : Muesli, yaourt et salade de fruits pour les filles, et « Full English Breakfast » pour moi.
Je profite de ce moment tous ensemble pour rappeler que l'étape du jour est plutôt favorable : un profil globalement descendant, et une route 100 % asphaltée.
Il faudra cependant faire attention à la circulation, car nous nous rapprochons des grandes villes que sont Pietermaritzburg et Durban.
En imaginant notre itinéraire, j'ai pris soin de nous faire passer devant le musée Nelson Mandela Capture Site que nous espérons pouvoir visiter. Arrivés sur place, nous parquons nos vélos sans cadenas, espérant qu'ils seront toujours là, après la visite. Le musée en lui-même n'est pas très grand, mais il est très bien structuré, et nous passionne tous.
On y apprend que c'est à cet endroit précis de la R103 que Nelson Mandela a été arrêtée le 6 août 1962, lors d'un banal contrôle routier mis en place par la police de l'apartheid.
Étant l'un des principaux activistes politiques anti-apartheid, il vivait alors dans la clandestinité et était activement recherché par le régime.

Malheureusement pour lui, il est reconnu par la police malgré son déguisement.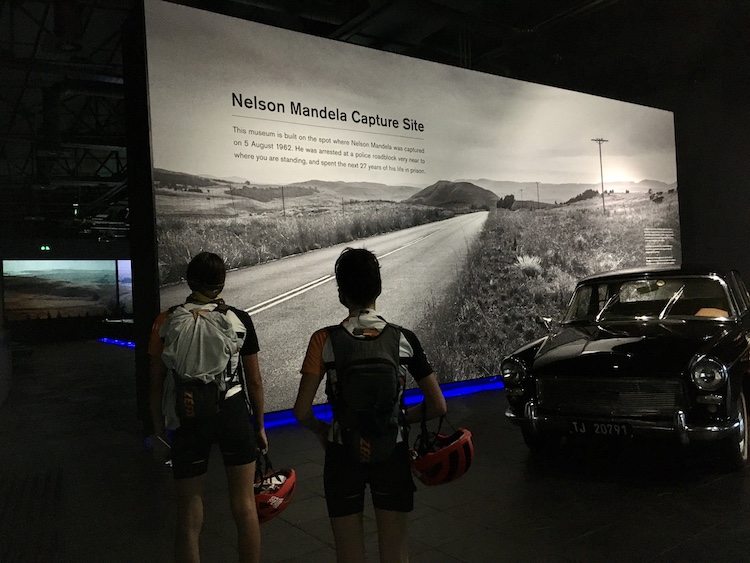 À l'issue de cette arrestation, il sera jugé et condamné à 27 ans de prison. Cette visite passionnante et émouvante, nous permet de mieux comprendre l'histoire mouvementée de l'Afrique du Sud, à cette époque.
Comme c'est le début de l'après-midi, nous commençons à avoir faim. Malheureusement, le snack à l'entrée du musée ne propose pas grand-chose… et Emmanuelle veut absolument un smoothie. Nous nous mettons donc en quête d'un bar à smoothie. Fort heureusement, on nous informe que « le royaume du chocolat » fait des smoothies quelques kilomètres plus loin. On s'y arrête et commandons une bonne dose de calories : Iced Coffee pour les filles, Death By Chocolate pour moi et Lime smoothie pour Emmanuelle qui voulait boire quelque chose de frai
Nous finissons cette étape en suivant la R 103 qui va nous mener jusqu'au quartier de Hilton sur les hauteurs de Pietermaritzburg. Grâce au tracé GPS préalablement enregistré sur mon compteur Garmin, je trouve assez facilement le 7 Primula avenue, où nous attendent Charles, Leslie et Bentley (le chien), nos hôtes du soir contactés via le site Internet warmShowers.org .
Ce site internet complètement gratuit permet de mettre en relation des voyageurs à vélo, avec des hébergeurs tout aussi passionnés de vélo. Après une bonne douche, nous discutons un moment avec nos hôtes.

Nous apprendrons ainsi que Charles a roulé sur tous les continents, et participé à de nombreuses courses de cyclisme-ultra du calendrier international : la Transcontinental Race en Europe, la Tour Divide aux USA, la tour quelque chose en Nouvelle-Zélande… Etc. Un vrai passionné de sport et de vélo. Leslie n'a pas le même CV mais elle nous apprend qu'elle prépare le Freedom challenge : 400 km en totale autonomie. De vrais sportifs !
Leslie est adorable, elle nous a préparé un succulent poulet rôti accompagné de patates et de petits légumes. Emmanuelle et moi savourons en parallèle un bon merlot Sud Africain ouvert par Charles. Je réalise que cela fait 10 jours que l'on n'a pas bu une seule goutte de vin !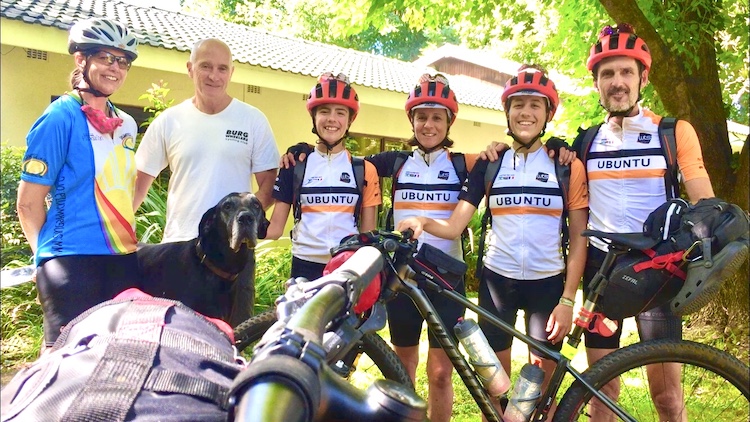 Entre la fatigue induite par notre périple et l'alcool, le sommeil vient rapidement, et à 21h nous sommes couchés.
---
ÉTAPE 11
Mardi 5/1
Pietermaritzburg
9,7 km / 11 m D+ / 19min de roulage
Itinéraire Bikepacking partie 1 : https://www.strava.com/activities/4571858954
12,8 km / 270m D+ / 1h01 de roulage
Itinéraire Bikepacking partie 2 : https://www.strava.com/activities/4571859204
« Décompression »
Nous profitons du petit déjeuner avec nos hôtes pour réfléchir aux différentes options pour cette dernière étape qui doit nous emmener jusqu'à Durban. Les filles sont assez fatiguées et pas motivées pour faire les quelques 100 km de route qui nous séparent de la troisième plus grande ville d'Afrique du Sud. De notre côté, Emmanuelle et moi sommes conscients qu'il va falloir évoluer dans la circulation entre les voitures, les taxi-bus, et les poids-lourds… avec la fatigue et la chaleur, le risque d'accident est assez élevé. Nous décidons donc de faire cette étape en transport en commun. L'option train est vite oubliée, car il n'y a que deux liaisons par semaine entre Pietermaritzburg et Durban. Finalement, nous trouvons un taxi-bus qui va pouvoir nous transporter avec nos quatre vélos, jusqu'à notre hôtel situé 100 km plus loin.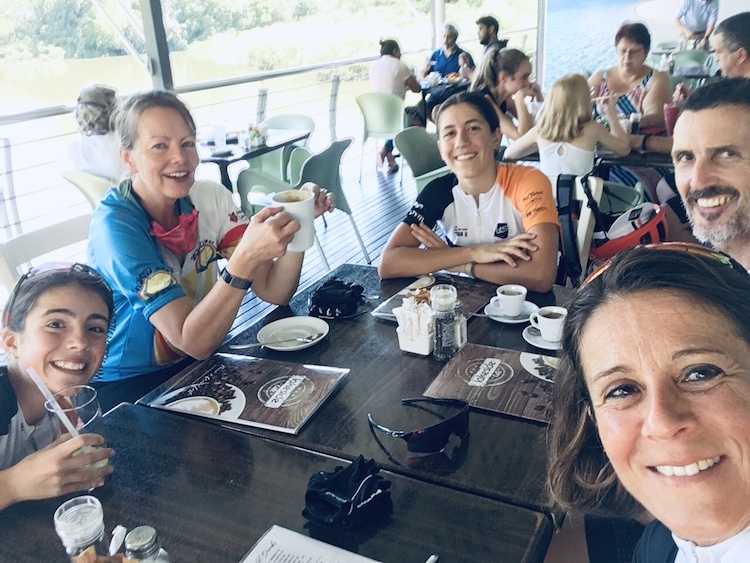 Leslie, qui avait envie de partager un bout de route avec nous, nous accompagne à vélo jusqu'au centre-ville.
Nous y retrouvons Trévor et son van Toyota Quatum flambant neuf, où nous prenons place confortablement installés. Notre chauffeur, tourne le contact, prend l'autoroute et met la musique à fond. Je savoure particulièrement cette heure de trajet car notre aventure se termine, et tout s'est globalement bien passé.
Je ne regrette pas du tout d'avoir esquivé la majeure partie de cette dernière étape car c'est très vallonné, il fait très chaud et le trafic est dense. Aucun regret !
Arrivés à Durban, nous remontons les vélos et prenons la direction de la plage, pour faire la photo finish et piquer une tête dans l'océan indien. Même si l'accès à la plage est interdit du fait des restrictions liées à l'épidémie du Covid, nous prenons le risque de nous aventurer sur le sable. Il n'y a presque personne. C'est magnifique, et on est tous les quatre très heureux d'être là. Assez rapidement, on constate qu'un petit avion blanc et bleu nous survole une première fois, puis une seconde, et une troisième fois. Je me dis que c'est peut-être la police qui surveille l'immense plage de Durban. Comme prévu, on prend un bain dans les rouleaux de l'océan Indien mais rapidement on aperçoit au loin deux silhouettes en uniforme : la police nous a repérés ! Bikepacking
On récupère nos vélos et nos affaires en quatrième vitesse, et on s'échappe par un petit chemin de traverse comme de véritable délinquants. Entre-temps, Léna marche sur une guêpe posée sur le sable et se fait piquer le pied. Elle n'a vraiment pas de chance ! On finit sous la pluie battante chez Coco Loco où l'on se délectera de Wraps et de Milk-shakes.
À l'issue de ce déjeuner très apprécié, on dépose les filles à l'Hôtel Beside Stillwater Boutique Hôtel, pour nous mettre en quête de cartons à vélo pour empaqueter nos fidèles destriers, en vue du retour en avion. Les bike-shops repérés sur internet s'avèrent tous être sur les hauteurs du quartier d'Umhlanga. Nous sommes bons pour une nouvelle heure de pédalage, à la recherche de ces magasins. In fine, on réussi à trouver quatre cartons après avoir visité trois magasins différents. Le problème, c'est qu'on ne peut pas les transporter et qu'il va donc falloir se les faire livrer. Le manager de Specialized Umhlanga me propose de tous les apporter à notre hôtel. Super sympa.
---
Mercredi 6/1
Journée de repos à Durban
Notre dernière journée de vacances à Durban sera ponctuée par l'achat de livres scolaires pour les filles (la rentrée approche), l'emballage des quatre vélos, l'achat des billets d'avion, et pour finir un superbe early-diner de 18h30 à 19h30 (couvre feu oblige), à Umhlanga Rocks.
Jeudi 7/1
Retour à Cape Town
« Fin de l'aventure » Bikepacking
Voilà enfin venu le jour du retour vers notre maison de Cape Town.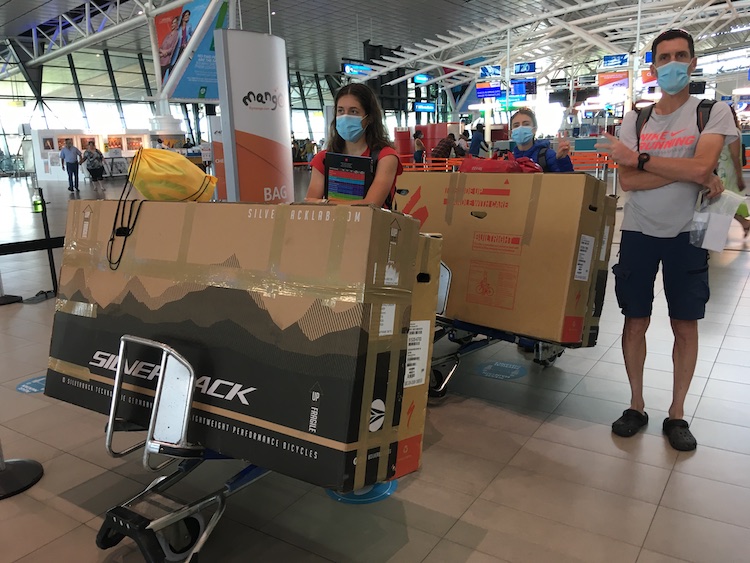 On a rendez-vous à 10h avec Trevor le taxi, qui arrive à l'hôtel dès 9h30.
Bien entendu, les filles n'ont pas fait leur sac et veulent absolument profiter une dernière fois de la piscine de l'hôtel.
Néanmoins à 10h02, nous montons dans le taxi et prenons la route de l'aéroport King Shaka (Célèbre roi zoulou).
Tout se passe de manière très fluide à l'aéroport où nous prenons notre déjeuner.
Le vol retour est très rapide, beaucoup plus que l'aller en bus !
À Cape Town, nous retrouvons notre amie Claudine qui est venue nous chercher à l'aéroport, avec notre van VW T4. On charge les quatre cartons et on rentre à la maison.
L'aventure The Great Lesotho Traverse se termine. Au total, nous aurons roulé plus de 50h, et parcouru 650km pour 15000m de D+. Au-delà des chiffres, que d'émotions vécues, et que de souvenirs emmagasinés !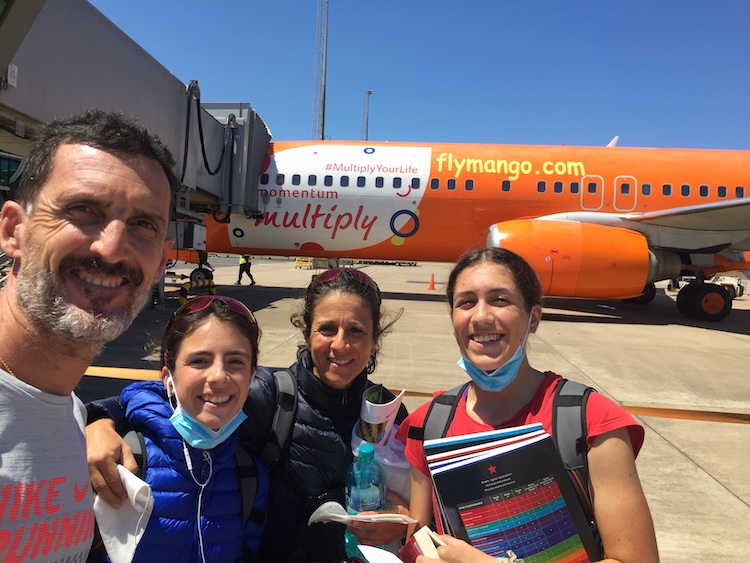 ---
Remerciements
Claudine qui a gardé notre maison et nos chiens Tyson et Judy pendant notre absence.

Les Villageois de Latsetse pour leur accueil

Charles et Leslie pour la soirée Warmshowers, à Pietermaritzburg

Nos familles, nos amis, et plus globalement tous ceux qui nous ont suivis sur les réseaux sociaux.

Johann et Dana qui nous ont conseillé sur le Lesotho après leur voyage Bikepacking de 3 semaines

Romain LARONCHE, Olivier HARALAMBON, Jean-Pierre GIORGI, Sylvain BAZIN, Pat VDB qui nous ont aidé à raconter cette aventure Bikepacking dans les médias.

Les entreprises du Cap qui nous ont aidés à préparer cette expédition : Freewheel Cycology, East City Cycles, Enjoy, Ademas

A titre plus personnel, je tiens à remercier ma femme Emmanuelle et mes filles Capucine et Léna, pour avoir adhéré à ce projet Bikepacking avec enthousiasme.
En pratique
Géographie : Le Lesotho est un petit pays totalement enclavé en Afrique du Sud. Indépendant depuis 1966, le Lesotho est aujourd'hui un royaume dirigé par le roi leste III. Ancienne colonie britannique, le Lesotho fait toujours partie du Commonwealth. Le Lesotho est un pays très montagneux, dont le point le plus bas se situe à 1400m d'altitude, et le point culminant se trouve à 3482m. Il en tire son surnom : « the Kingdom in the Sky". Très pauvre, le Lesotho

compte environ deux millions d'habitants, et l'espérance de vie est estimée à 34,5 ans. Source Wikipedia : https://fr.wikipedia.org/wiki/Lesotho
Notre Equipement

Vélo

: Specialized Chisel modèle 2021 en Shimano Deore

Roues : DT Swiss XR1700 Boost 29 pouces

Pneumatiques : Specialized Fast Track 2.35 avec 50ml de préventif No Tubes par pneu

Bagagerie Bikepacking :

Casque : Urge Papingo
Maillot : Enjoy Custom « Ubuntu », by WTS
Bidons : Zéfal Arctica 55 et 75 / Meltonic 55 et 75 ml
Nutrition sportive :

Nos hébergements
Ayant fait le choix de ne pas prendre de matériel de camping, nous avons dû trouver des hébergements. Au Lesotho, il ne sont pas nombreux, mais vous pouvez consulter la carte Google que nous avons créée.
=> Les plus agréables furent :
1 – Le Semonkong Lodge : Top !
2 – Sani Mountain Lodge, à Sani Pass : un petit hotel très confortable, qui est aussi le plus haut pub d'Afrique à 2800m d'altitude. Un peu cher.
3- Sani Lodge Backpackers, en bas de Sani Pass (coté Afrique du Sud)
Réseaux sociaux
Vous pouvez suivre nos aventures sur Instagram : @thebicyclingfam

---
Pour aller plus loin – Parutions dans la PRESSE
---
FILM – The Great Lesotho Traverse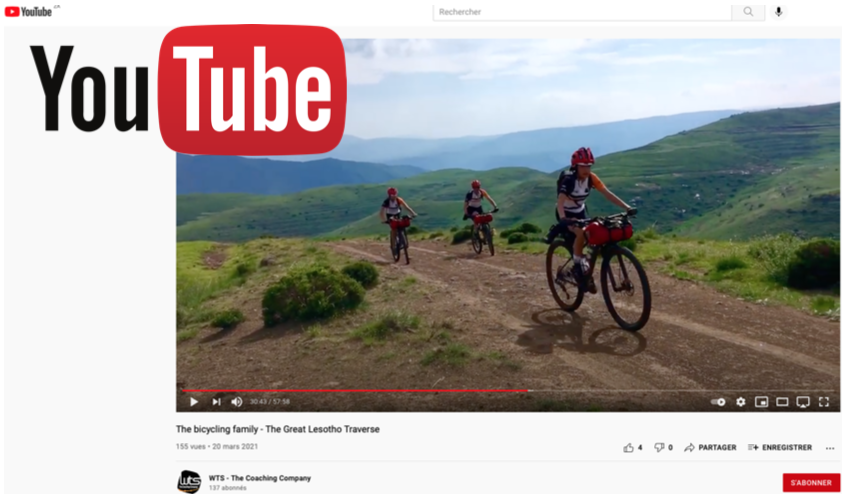 Vidéo Originale (durée 57′) – Passez une soirée au "Lesotho"
🙂

---