The Great Lesotho Traverse in bike packing mode – Story
Genesis
The idea for this family bike trip started in early September, when we returned to Cape Town from France. Indeed, Lesotho was on our list of countries to visit, and the only time of the year that Emmanuelle, Capucine (15 years old) and Lena (14 years old), were on vacation together was Christmas. So we made a spontaneous decision to do a trip to Lesotho, and, to add to the adventure, we decided to travel by bike, in bike packing mode. bike packing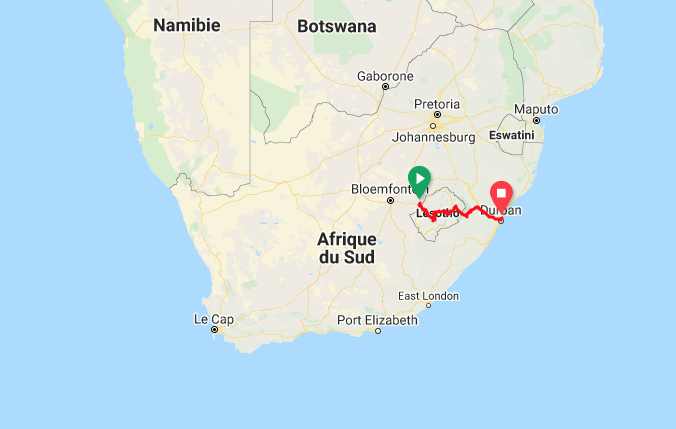 From September, I began planning the route, logistics and equipment of this bike packing trip.
I then discovered Logan Watts' article in bikepacking.com (https://bikepacking.com/routes/lesotho-traverse/), which turned out to be full of useful information.
After working on our itinerary for several weeks, we planned to finally put it to the test on a trial biking weekend between Grabouw and Greyton, starting from Trail's End. bike packing

The achievement
D-3 – Monday December 21 – 2020
To enter Lesotho, we needed to provide negative COVID tests of less than 72 hours. We therefore found a lab to carry out the relevant tests in the early morning.
In theory, we were supposed to receive the results the following morning and would then be able to leave on Tuesday or Wednesday. At the same time, the 4 pairs of wheels sent by DT Swiss France finally arrived in the afternoon, after being held by customs for a few days.
D-2 – Tuesday, December 22 – 2021. We received the results, one at a time, by SMS: first Léna, in the early morning, then Capucine, myself and finally Emmanuelle in the afternoon. Fortunately, they were all negative! "Phew!"
I then had to book the bus tickets and confirm our first accommodation reservation.
In the meantime, Emmanuelle struggled on the phone to receive written proof of our negative tests … "What complications!"
By the time the evening arrived, we were still without any certificates. bike packing
D-1 – Wednesday 23 December – 2021.
We were waiting anxiously for our certificates… so we decided to go to the lab 30min away. A long queue stretched out across the street. We eventually got the certificates and at 4:30 p.m. we finally arrived at Cape Town bus station to take the bus to Ladybrand. bike packing
The Great Lesotho Traverse could finally begin !!!
STAGE 1
Thursday 24 of December
Ladybrand (AFS) – Roma (Lesotho)
60km / 860m D+ / 4h13
Bike packing Route : https://www.strava.com/activities/4522775654
« The Kingdom in the Sky ! »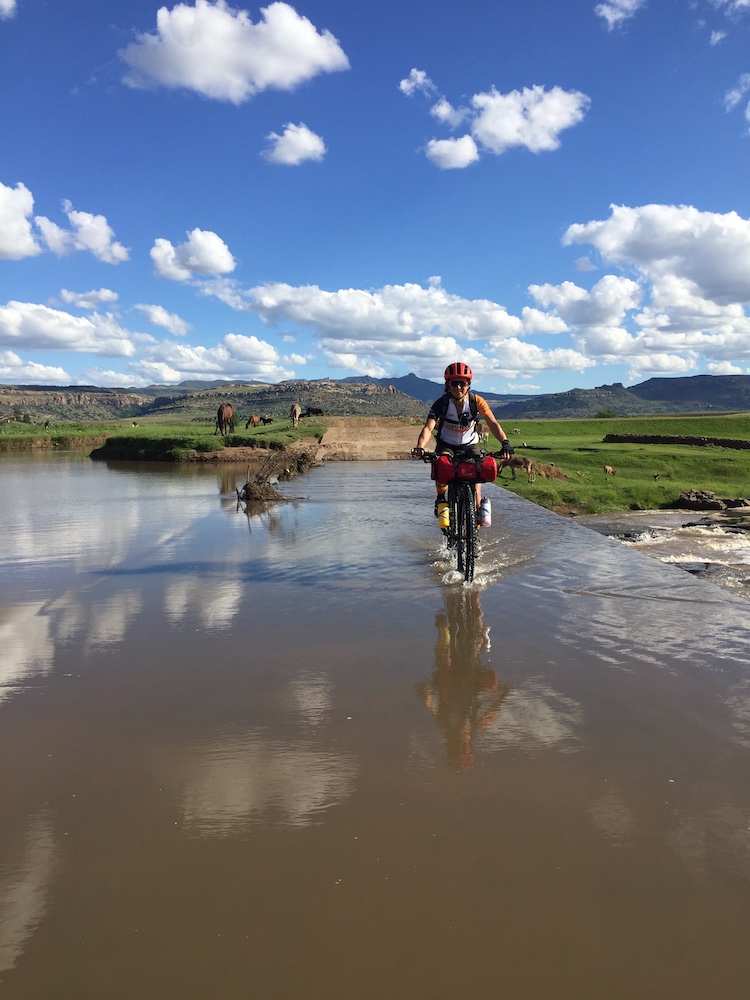 Our sleep was painfully short as a passenger sang like a bird until 3:00 am without any consideration for the other passengers. Around noon, we disembarked at Ladybrand after a 14 hour bus ride.
I mounted our 4 bikes in front of "Ali's Garage", while Ali watched us with curiosity.
At 1:00 pm, we began riding on the main road towards the border post of Maseru, where we were supposed to enter Lesotho. The 15 kilometers went quickly and we found ourselves facing South African customs. There weren't many people, and the formalities were completed relatively quickly. We presented our Covid tests, then had our temperatures taken. Even though it was very hot, our body temperatures were between 36 and 37°C. We were relieved !
At 2:00 pm, we were happy to ride through Maseru. It turned out to be quite hectic with a lot of traffic in all directions: "Chaotic!"
One hour later, near the airport, we finally found the countryside and the first dirt tracks. The landscapes are magnificent and the light sparkling… this country deserves its name : « The Kingdom in the Sky ». Unfortunately, we underestimated our water requirements and we quickly found ourselves rather dehydrated. Léna and Capucine were tired and we had to overcome a very hilly section at the end of the stage.
At around 6:30 p.m. we finally arrived at the Roma Trading Post Lodge, which welcomed us for the night. Having been closed for more than six months, they weren't able to prepare a proper Christmas dinner, so went shopping in the only grocery store in the village, located at the top of a long hill. Our Christmas menu was quite frugal, but we enjoyed a boiled egg, a little rice and a few slices of cucumber!
This Christmas Eve 2020 will be remembered for a long time!
---
STAGE 2
Friday 25 of December
Roma (Lesotho) – Ramabanta (Lesotho)
38km / 987m D+ / 2h46
Bike packing Route : https://www.strava.com/activities/4522775729
« Best customers of the day ! »
On Christmas day, after a good night's rest of 10 hours, we hit the road for the second stage which was supposed to lead us to Ramabanta. Taking into account the fatigue induced by the bus trip and the first stage, we made the choice to stay on the road without venturing on the difficult paths of the area. Just after Roma, a 4 km climb at an average gradient of 8% awaited us. Many taxi-buses had stopped on the side of the road due to their engines' overheating. At mid-stage, we bought a few supplies at "George's" little roadside stall: having purchased the sum total of eight bananas, two pears and ten little packs of peanut / raisin mix, we were voted "best customers of the day"!
George was overjoyed to have received us on Christmas day! The transaction was complemented by a lively discussion about European and African football. He was familiar with "Olympique de Marseille," which pleased me! bike packing
Just before noon, we reached Ramabanta where Elisa was waiting for us at the Maluti Stay Lodge. We were the only guests in this quite large hotel. After a quick negotiation, she prepared us a delicious lunch : chicken curry, rice and spinach. We dedicated the afternoon to a very welcome nap, and afterwards, to preparing the bikes for the third stage, (which required small adjustments: drivetrain cleaning; tyre pressure verifications etc …). bike packing
---
STAGE 3
Saturday 26 of December
Ramabanta – Semonkong
42km / 1346m D+ / 6h41
Bike packing Route : https://www.strava.com/activities/4522919876
"Baboons' Pass will be remembered all our lives! "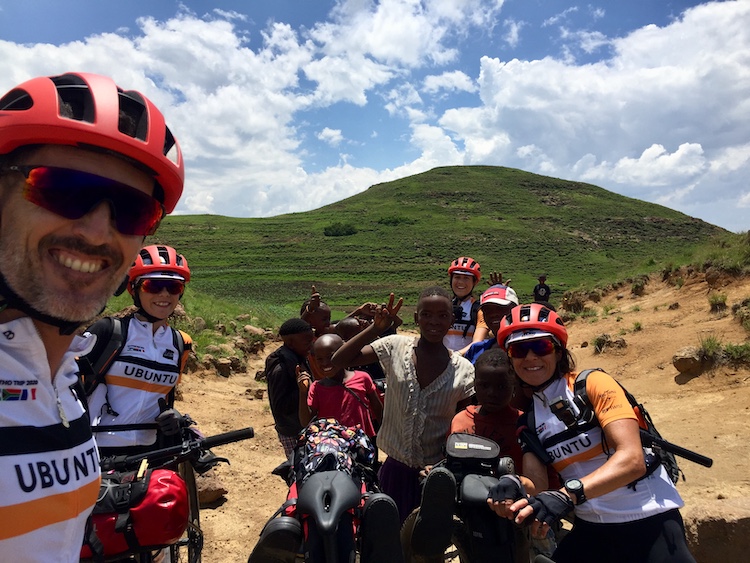 This third stage could be called « hell and heaven » as it was hard but also significant in that it revealed our daughters' mental strength.
Indeed, we decided to do the first part of the route in off-road mode, going through the mountains, and through Baboons' Pass. Unfortunately for us, those 20 km of mountain biking turned out to be A LOT harder than we expected. Besides the high gradient at the start, we had to cross, (by foot), countless boulder-strewn paths, which had been destroyed by the recent storms. We were forced to carry our mountain bikes, loaded with 10 to 20 kg of equipment, which was truly exhausting.
Furthermore, during the initial crossing by foot, Emmanuelle lost control of our drone, which disappeared into the valley after a 10-15 minutes flight. We were very disappointed as the images promised to be superb. The only positive aspect that emerged was the fact that Emmanuelle's backpack was lightened, as it had been a bit too heavy for such a trip.


At 4:00 pm, we finally reached the top of the pass during a light storm. Although we were very focussed, our stress-levels increased, as it was impossible to see the end of the interminable track …
After descending the pass, we still had to go around Mount Thaba Putsoa (3096m) on extremely difficult paths. At that moment, Emmanuelle and I began to consider the option of sleeping in a village or even in the mountains, if we failed to arrive in time at the junction with the Semonkong road. Fortunately, about 6:00 pm, having crossed another small pass, we finally saw the road: "Tears of joy" flowed at our deliverance!
After a 20 km downhill ride, at high speed, we finally reached Semonkong Lodge in the dark night. We had spent 12 hours, that day, in the mountains! A welcome shower, dinner and cozy beds allowed us to overcome our fatigue and the stress of an emotional, but special day.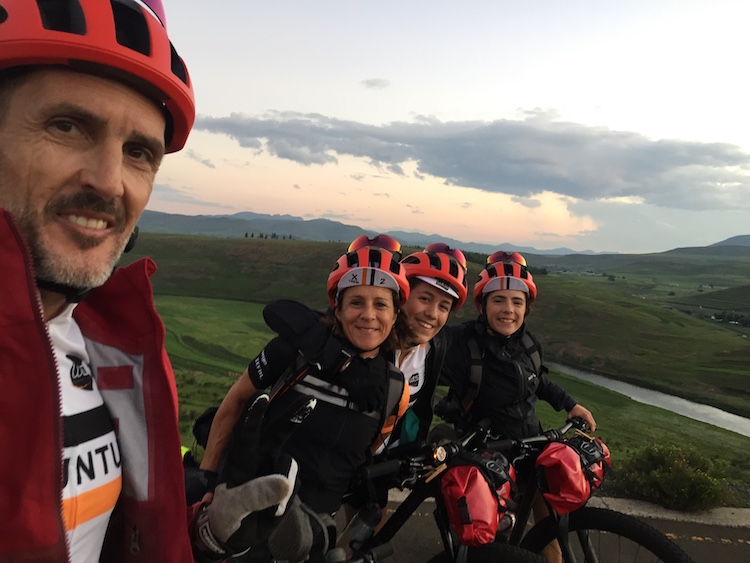 ---
STAGE 4
Sunday 27 of December
Semonkong Falls
5km / 157m D+ / 1h11
Bike packing Route : https://www.strava.com/activities/4537619375
« The Place of Smoke »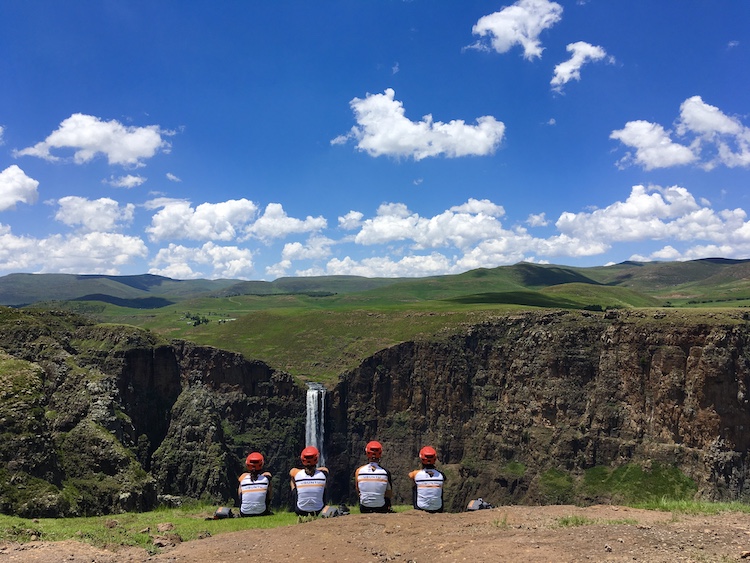 For this first 'rest' day, we decided to visit the Semonkong Falls, which are said to be the highest in Africa with a height of 186 m. For this "stage", however, we opted for "Basotho Horses", which are little horses, perfectly adapted to the local mountains. After 30 minutes of horse riding, we reached the falls. The landscape was incredible. At the bottom of the falls, the image of a permanent cloud of droplets provided the explanation of the waterfall's name: the Place Of Smoke (or Semonkong).
The afternoon was dedicated to our preparation for the fourth stage, one of the most difficult of our trip. In addition, I spent part of the evening trying to find the best route to reach Mantsonyane the following day. Without a detailed map, and accurate information, provided by locals, it was not easy to make decisions!

---
STAGE 5
Monday 28 of December
Semonkong – Latsetse
69km / 1446m D+ / 6h
Bike packing Route : https://www.strava.com/activities/4542594499
" Meeting in unknown land "
Knowing the difficulty of our route, we awoke at 6:00 am in order to make an early start. The very welcoming staff at Semonkong Lodge prepared us a superb breakfast. At 7:04 am, we began with the goal of reaching Mants'onyane lodge in the evening.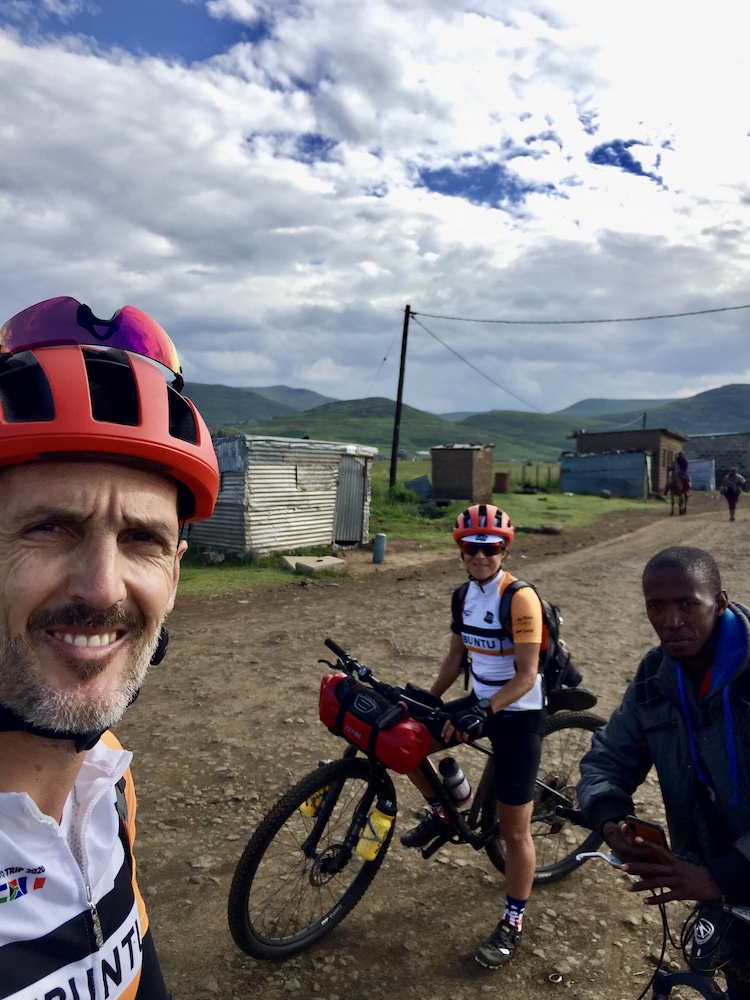 Unfortunately, I took the wrong path, forcing the family to do an extra warm-up around Semonkong airfield! Fortunately, we met Motsamaï, a local cyclist who set us on the right track, which was comprised of a succession of climbs and descents in amazing landscapes. We crossed the paths of many Basotho riders, shepherds tending their cattle…
At 21km, we had to make a strategic decision: either to stay on the main track, or to go deep into the Maletsunyane gorge and climb the other side. After interviewing a few local shepherds, I decided to quit the GPS route recommended by Logan Watts on Backpacking.com, and stay on the main 4×4 path.
Advantage: It was supposed to be smoother and there was no risk of getting lost (Baboon Pass made me cautious). Disadvantage: it would be longer in terms of distance, rather than time spent on the bike.
So we continued our way towards Mokonkong, Marakabei, and Mantsonayne.
Around 5 p.m., we were still very far from our goal, so I suggested to the family that we ask for accommodation in the next village.
Finally, we arrived at a pretty village above the track. The shepherd sitting by the side of the road was not very fluent in English, (and of course, he could not communicate in French).
We then adopted the universal sign language: "sleep", "eat", "money". Unfortunately, we had a hard time communicating with him. We were about to leave in order to try our luck in the next village, when an old man, the village chief, joined us.
Communication was still a challenge, but our request seemed to have been understood. In the meantime, a group of children came to watch our interactions, soon joined by several young women from the village, who spoke a little English. After much discussion between them (about 30 minutes), they finally agreed to welcome us for the evening. "It was Ok!"

We discovered later, that they had never accommodated foreign travellers in their village. Thus began the "Rendez-vous in the unknown land of our adventure" !
The entire village came to greet us, then walked us to our "Rondavel" (a small traditional circular hut). They brought us a bench, a chair, and a basin with a jug of water to wash our dirty arms and legs.
In this small village of about 20 huts, there was no running water or electricity. Each of us washed in front of the children, who gazed at the spectacle with great curiosity and excitement. It was a real show!
Then came time for the dinner which was presented in front of the village elder's hut. She told us that she had never left her valley! The menu included boiled lamb, chopped spinach and rice. It was delicious! We managed to chat to them, and they taught us a few words of Sotho, while laughing at our pronunciation! This was a warm and friendly moment. The night spent in the hut was disturbed by the music listened to by the youngsters and the bed-bugs nestled in the blankets!
Nevertheless, we spent the night dry and warm.
---
STAGE 6
Tuesday 29 of December
Latsetse – Thaba Tseka
61km / 1691m D+ / 5h50
Bike packing Route : https://www.strava.com/activities/4545160504
« Wasp attack »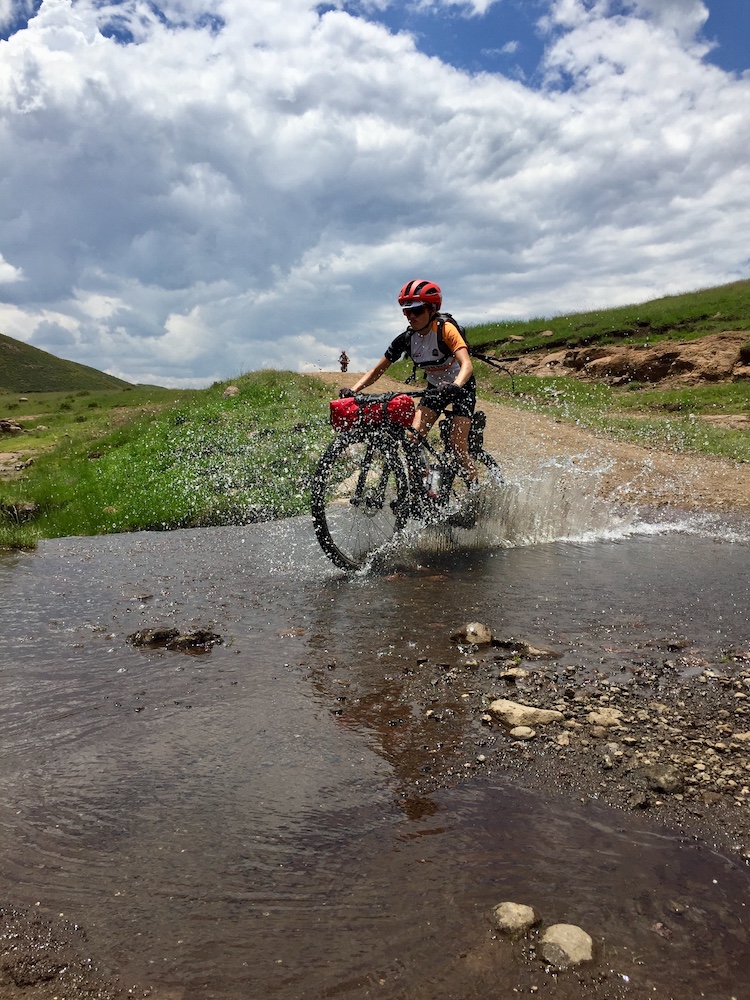 We awoke at 6:00 am, and set up our equipment while sipping hot tea. There was no proper breakfast that morning. Just before leaving, we compensated our friends for accommodating us (500 Malutis = 20 €)… and we asked for a group photo.
Like people all over Africa, our hosts were relatively well-equipped with cell phones, which they recharged using a small solar panel, so we decided to exchange our cell phone numbers.
We then discovered that a few young women were on Facebook. "It was awesome!"
It's in such moments that you realize the power of social media, and communication technology!
Shortly afterwards, we hit the track again with the aim of reaching Thaba Tseka in the afternoon. The track was comprised of murderous climbs and rapid descents. Around noon, we made the junction with the main road which would lead us to Marakabei, Mantsonyane and, finally, to our accommodation, "Motherland Guesthouse", located in Thaba Tseka.
In Marakabei, we did some shopping for our picnic lunch. When I came out of the grocery store, a toothless man offered me Cannabis which I refused on the pretext that I still had several mountain passes to climb … "LOL".
We picnicked at the edge of a small stream while curious children stared at us. Our menu consisted of: fruit juice, a piece of brioche bread, one tomato and few grilled chicken necks (1 maluti each = 0,05 €).
We re-started under a blazing sun and we quickly found yet another murderous climb, so common in Lesotho. I almost overheated, as did the rest of the family …
After ten kilometers of climbing, we reached the summit at an altitude of 2550m, and rode down to Mantsonyane where we experienced the most striking (and painful) episode of our adventure. After six hours of pedaling, we began to tire and felt that the end of the 45km long stage would be very difficult.
We then stopped at a grocery store to buy some fruit, and also to request a "lift" from the grocer who had a superb van.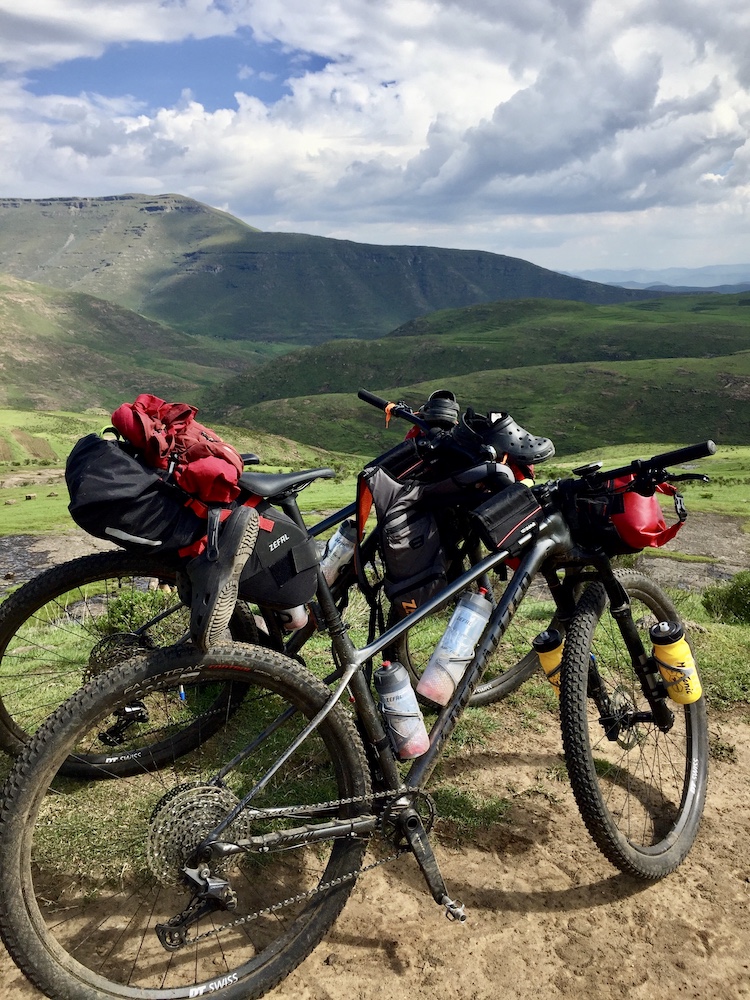 After a short negotiation, he agreed to drive us to our accommodation. I started to dismount the front wheels of our Specialized Chisels, and asked him for a piece of cardboard to block the disc brake pads. While moving the box in the grocery store, I disturbed a hidden nest of wasps! This resulted in an unbelievable and painful experience: we were literally attacked and repeatedly stung by dozens of wasps! In panic, we ran down the road. We did not understand what was happening to us and we were forced to find refuge in a village-hut in order to avoid these very aggressive wasps (which attacked anyone within a radius of 50 m around the grocery store). We were shocked and perplexed as to how we would collect our bikes and luggage left in front of the grocery store. After hiding for an hour, I attempted to retrieve our equipment … only to be immediately punished – I was again attacked by the wasps.
I retreated into the hut where Emmanuelle, Léna and Capucine were still hidden with 20 to 25 other people. Finally, the wasps calmed down and we were able to retrieve our bikes with the help of some shepherds protected by their traditional clothing (rubber boots, a thick blanket, and a full woollen hood). The village chief who was in the grocery store at the time of the attack very kindly offered to transport us in his 4×4 to our accommodation located 45 km away. During the trip, we finally unwound, (the girls were in tears), and enjoyed being in the car, particularly, because the gradient was steep and a storm was brewing. A few minutes later, we were surrounded by lightning strikes and thunderstorms. Dinner was quickly swallowed and we sunk into the arms of Morpheus, exhausted by this long and difficult day.
We had not fully comprehended what had happened …
---
Wednesday 30 of December
Rest day in the bus between Thaba Tseka and Mokhontlong

" Tired "
Waking-up was painful in the morning. Emmanuelle, Capucine and I had all been bitten 15 to 20 times and were swollen and felt nauseous. It was obvious that we were not going to be able to ride that day. I then went out in order to find a shuttle to reach Mokhontlong by bus or car.
After long hours of discussion and negotiation, we finally found a taxi-bus that agreed to transport us with our four bicycles. We endured three and a half hours of bumpy track, being tossed around in the back of the little Toyota van (with completely worn tyres). It was far from restful, but the uninterrupted series of passes made us realize that this stage would have been extremely difficult on a mountain-bike. Around 6 p.m. we reached Mantsebo Guest House at the foot of the mythical Sani Pass.
---
Thursday 31st of December
Rest day in Mokhontlong
Itinerary : https://www.strava.com/activities/4543822758
"A memorable New Year's Eve in Mokhontlong"
Just after waking, we were still very tired and swollen from our wasp stings. Obviously, it would have not been possible to ride the 35km Sani Pass climb.
We therefore decided to spend the last day of December at the guest house in order to recover a little more. Capucine spent the most part of the day sleeping.
I felt somewhat better and did a short ride to the « city » center of Mokhontlong in order to withdraw money and buy a few supplies. I also took this opportunity to try to increase pressure in my fork, which was a little "soft" with its Zéfal bike bags. Not easy. I clearly missed my small high pressure pump. Note for the next trip.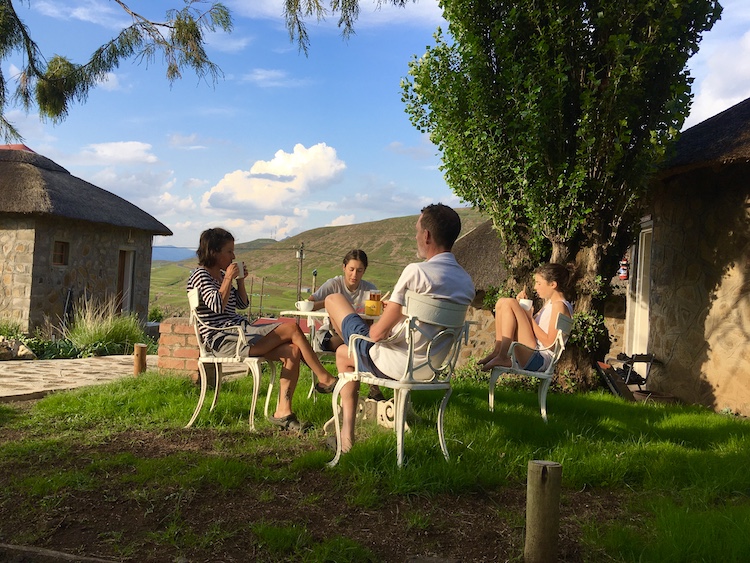 Just like Christmas Eve, New Year's Eve was very "festive": we were the only guests at Mantsebo, alcohol was prohibited for sale due to COVID restrictions, and the chef served exactly the same menu as the day before (mashed potatoes, chopped spinach and mutton stew).
For the big fiesta, we're waiting for 2021!
---
STAGE 7
Friday 1st of January
Mokhontlong (Lesotho) – Sani Pass (AFS)
48km / 1413m D+ / 3h40
Bike packing Route : https://www.strava.com/activities/4548325625
"New Year's Day at Sani Pass"
On January 1st, we felt better and we therefore decided to set off for this 7th stage, which would take us past the highest point of our « Traverse », Sani Pass, and its 3240 m altitude.
The ascent took place under a gray sky with a noticeable breeze on our backs. The road is very smooth, it must be said that it was financed and built by the Chinese a few years ago. After 20 km of false flat, we got to the heart of the matter, with very high gradients (15-20%) which forced me to tow Capucine in order to reach the top.

I urged everyone to speed up the pace a little because I could see the rain coming up the valley in pursuit of us. We did not escape the driving rain on the last kilometer of ascent, which forced us to put on our "Gore-Tex" jackets for the first time. It is 6-7 ° C (it felt 2-3 ° C), and the descent to the Lesotho-South African border was not going to be fun. After 45 minutes of descent, we arrived at the border post, shivering and drenched to the bone. I had a hard time extracting the passports from the backpack under these conditions. Lesotho customs officials informed us that the Sani Mountain Lodge was open. There we found a roaring stove and hot chocolate, which allowed us to warm up quickly. Seeing that it continued to rain, and that the fog had lifted, it was impossible to envisage the end of the descent from Sani Pass (which becomes a track) in optimal safety conditions. We decided to spend the evening in this very welcoming and comfortable Lodge. The cold knocked my stomach out of whack, and I spent part of the afternoon in the bathroom. Fortunately, we took care to take cumin and 'Imodium' with us. The evening at the Sani Lodge was very pleasant after a rather difficult day.

---
STAGE 8
Sunday 2nd of december
Sani Pass (AFS) – Himeville (AFS)
24km / 57m D+ / 1h30
Bike packing Route : https://www.strava.com/activities/4587084027
"Sani Valley"
When we awoke, we were pleased to see that the rain has stopped and we were just above a sea of ​​clouds. After breakfast, we used the wi-fi network to reply to various messages and activate our Instagram account "The Bicycling Family" (@thebicyclingfam). Around 10 a.m., we started the famous Sani Pass downhill, known by all South Africans. The first part of the track is in very poor condition and we were happy to have good hardtail bikes with Rock Shox forks. After 9 km, we finally reached the South African border post, where we had to queue to perform a Covid test that would hopefully be negative. The wait was quite long because there were about 30 people in front of us, waiting to enter South Africa. Finally, we had the test and a few minutes later received the results: "Negative! Phew…!" we were able to continue our trip in Kwazulu-Natal.
The final downhill part of Sani Valley was less steep, alternating between small uphill sections of ascent with descending sections. Even though it was still gray, the scenery was beautiful. Very green. Numerous waterfalls cascaded from the cliffs on both sides of the road.
This landscape looked like the original world.
Human beings had lived in this valley several hundred years ago.
We finally reached our accommodation: the Sani Lodge Backpackers. 'Backpackers' are accommodation lodges , between Bed & Breakfasts and Youth Hostels. They are very user friendly and not at all formatted. We often met young travelers from all over the world. Unfortunately in this period, there were hardly any foreign tourists. We met a lone Chinese tourist who wished to travel to Lesotho. Given the context, it was probably been difficult for him to enter the country.
---
STAGE 9
Monday 3rd of January
Himeville – Nottingham Road
102km / 2105m D+ / 7h
Bike packing Route : https://www.strava.com/activities/4561972661
"New personal record for the girls ! "
During this last big stage, longer than 100 km, we rode through the southern part of the Drakensberg and on Midlands roads. Unfortunately, it started to rain during the breakfast, making the stage harder. Bottles of hot tea and heating oil massage were set up for this cool and humid day. Fortunately, the rain eased when we started. After 10 km of tar road, we turned left and started a 60 km section of muddy track. A few 4×4's overtook us and sprayed us with muddy water. The girls were not happy at all with these drivers!
As the rain increased, we had to put on our "Gore Tex » jackets again. They were quickly covered with mud but offered good protection against humidity.
By 11:00 AM, we went through Stepmore which appeared to be inhabited by exclusively black South African families. During the apartheid era, (1948 to 1994), these villages, often far from farms or cities, were comprised of black populations. The segregationist regime made sure to position these villages as far as possible from white populations, forcing workers to walk or to commute on the bus to reach their workplace. These days are fortunately over, but the villages have remained and the inhabitants still have to travel to do their shopping or go to work.
After the village a steep hill awaited us, and as it was Sunday, a number of locals watched us go by and encouraged us. We were on the longest climb of the day (14km at 4.1%) along Lotheni Mountain. The landscape of this mountain was absolutely amazing. As the girls started to get tired, we stopped briefly by the side of the track to eat our small sandwiches made during breakfast, with Meltonic bars. We did not linger because the weather was threatening and we still had a good fifty kilometers to go.
We passed many large and magnificent farms on this second part of the stage. These farms mainly do extensive breeding: cows, sheep, goats.
Capucine was suffering more and more from her right trapezius. More precisely from her sternocleidomastoid (SCM), slightly damaged during Baboons Pass.
The throbbing and increasing pain took over her whole mind.
I stayed with her in order to give some support with my traction system, unpatented but very efficient 😉 We have done all the steep ascents like this, like a tandem. Meanwhile, Emmanuelle and Lena were riding faster at the front, leading the family. On this day, Léna was euphoric, motivated by the goal of breaking her distance record.
Finally after 70 km, we found the road again. This one was quite uneven, constantly going up and down.
However, we reached Nottingham Road at the end of the day where we settled in at the Notties Hotel, a real institution in the region. In fact, this hotel was constructed in the 19th century, perfectly located on the strategic Durban – Johannesburg axis.
After a good shower and a must-have laundry session for jerseys and shorts, I worried about dinner. So I stopped by the restaurant to enquire about service hours. It was 7:28 pm and the restaurant manager told me that the kitchen was about to close at 7:30 pm. In such situations, you have to react very quickly if you're hungry!
Our evening menu included pasta, pizza, salad and fish & chips.
I dreamed of a draft beer, but unfortunately the current restrictions prohibited any sale of alcohol in South Africa. I was happy with sparkling water …
---
STAGE 10
Monday 4th of January
Nottingham Road – Pietermaritzburg
51 km / 451 m D+ / 2h31
Bike packing Route : https://www.strava.com/activities/4567438125
"A moving visit to Nelson Mandela Capture Site Museum"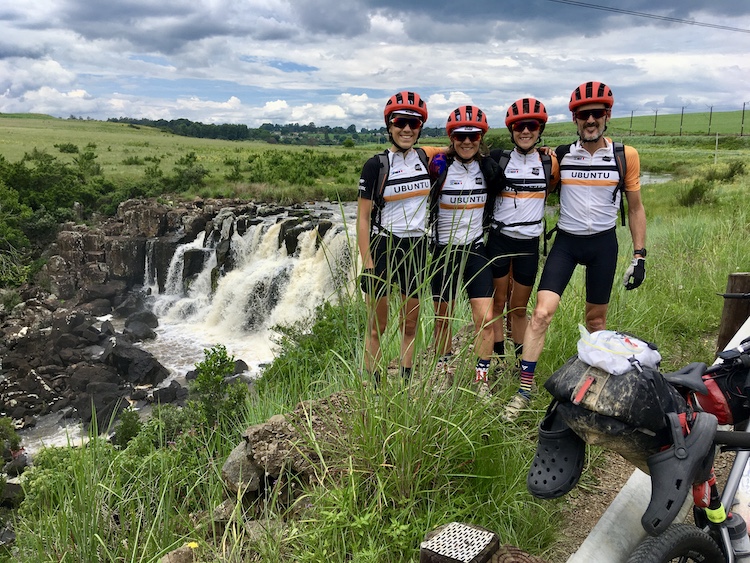 We awoke with a beautiful sun around 7 am, starting the day with a good breakfast: Muesli, yoghurt and fruit salad for the girls and "Full English Breakfast" for me.
I took this moment to remind the family that today's stage was supposed to be easy: a mainly downhill profile and a 100% asphalt road. However, we had to pay attention to the traffic, getting closer to the big cities of Pietermaritzburg and Durban.
When creating our itinerary, I took care to lead us past the Nelson Mandela Capture Site, which we hoped to be able to visit.
When we got there, we parked our bikes without a padlock, hoping that they would still be there after the visit. The museum itself is not very big, but it is very well structured and we were all passionate about it.
We learnt that it was built on the precise location where Nelson Mandela was arrested on August 6, 1962 during a routine traffic stop set up by the apartheid police.
As one of the main anti-apartheid political activists, he was living in hiding, and was constantly searched for by the regime.
Unfortunately for him, he was recognized by the police despite his disguise.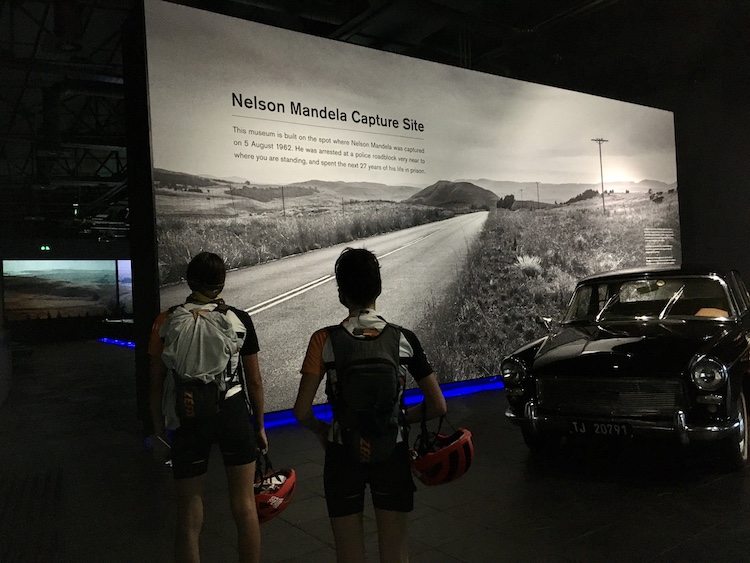 After this arrest he would be tried and sentenced to 27 years in prison. This moving visit allowed us to better comprehend the turbulent history of South Africa at that time.
As it was the start of the afternoon, we began to feel hungry. Unfortunately, the snack bar at the entrance of the museum did not offer much … and Emmanuelle absolutely wanted a smoothie. So we looked a smoothie bar. Fortunately, we were informed that "the kingdom of chocolate" was offering smoothies a few kilometers away. We stopped there and ordered a large supply of calories: Iced Coffee for the girls, Death By Chocolate for me and Lime smoothie for Emmanuelle, who wanted to drink something fresh.
We ended this stage following the R 103 which took us to the Hilton district on the heights of Pietermaritzburg. Thanks to the GPS track previously recorded on my Garmin computer, I found the 7 Primula avenue address quite easily, where Charles, Leslie and Bentley (the dog), – our evening hosts, (contacted via the warmShowers.org website), awaited us.
This completely free website connects bicycle travellers with accommodation providers who are equally passionate about cycling. After a good shower, we chatted for a while with our hosts.
We learnt that Charles rode on all continents and participated in many ultra-cycling races: the Transcontinental Race in Europe, the Tour Divide in the USA, ultra race in New Zealand… etc. A true sportsman and cycling enthusiast. Leslie does not have the same CV but she told us that she was preparing for the Freedom challenge: 400 km in total autonomy. Real athletes!
Leslie is adorable, she made us a succulent roast chicken with potatoes and vegetables. Emmanuelle and I also enjoyed a good South African Merlot opened by Charles. I realized it had been 10 days since we last drank a single drop of wine!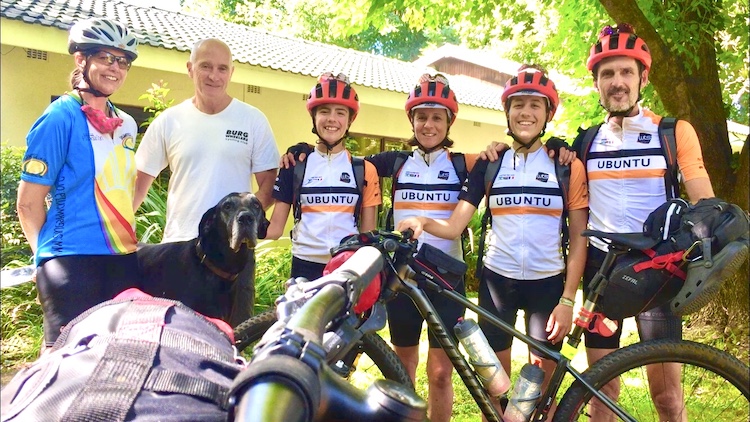 Between fatigue induced by our trip and alcohol, sleep came quickly, and at 9 p.m. we went to bed.
---
STAGE 11
Tuesday 5th of January
Pietermaritzburg
9,7 km / 11 m D+ / 19min
Bike packing Route part 1 : https://www.strava.com/activities/4571858954
Durban
12,8 km / 270m D+ / 1h01
Bike packing Route part 2 : https://www.strava.com/activities/4571859204
"Decompression"
We enjoyed breakfast with our hosts, and discussed the different options for this last stage which would take us to Durban. The girls were tired and unmotivated to ride the 100 km that separated us from the third largest city in South Africa.
On our side, Emmanuelle and I were aware that we would have to go through heavy traffic between cars, taxi-buses and trucks… with fatigue and heat, the risk of an accident would be quite high. We therefore decided to do the main part of this stage using public transport. The train option was quickly forgotten as there were only two connections per week between Pietermaritzburg and Durban. Finally, we found a taxi bus that was able to transport us with our four bikes to our hotel located 100 km away.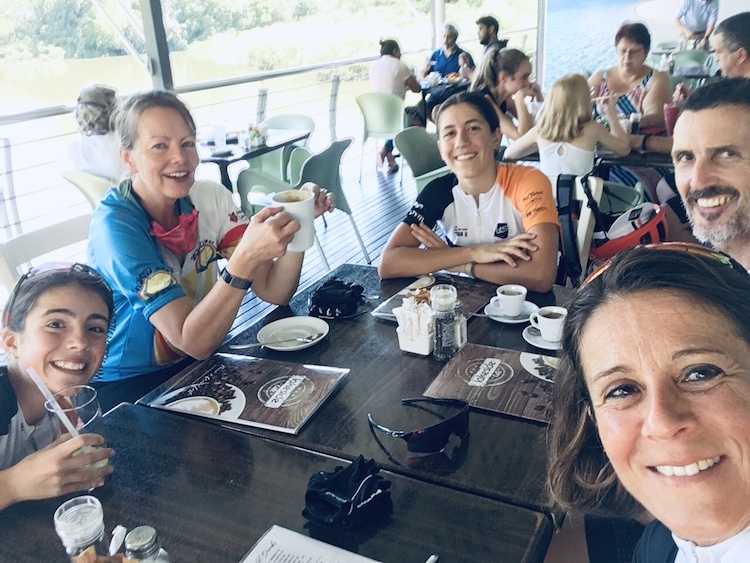 Leslie, who wanted to share a bit of riding with us, accompanied us by bike to the city center.
There, we met Trevor and his brand new Toyota Quantum van, in which we travelled comfortably. Our driver, turned on the ignition, drove down the highway and turned on the music.
I thoroughly enjoyed this hour of travel because our adventure was ending and everything, overall, had gone very smoothly. I had no regrets at all about forgoing our bicycle ride on this stage, as it was very hilly countryside, extremely hot and the traffic was heavy. No regrets!
Arriving in Durban, we got back on the bikes and headed for the beach to take our last pictures and have a quick dip in the Ocean. Even though access to the beach was prohibited due to restrictions linked to the Covid, we took the risk of venturing onto the sand. There was hardly anyone there. It was wonderful, and the four of us were very happy to be there. Fairly quickly, we saw a small plane flying over our heads, once, twice, then three times. I thought perhaps it was the police surveilling Durban's beach. As planned, we had a swim in the Indian Ocean swell but quickly saw two figures in uniform far away: the local police had spotted us!
We got our bikes and our things as quickly as possible, and escaped down a side road like real criminals. Meanwhile, Lena walked on a wasp on the sand and had her foot stung. She was really unlucky! We ended up under pouring rain at Coco Loco where we enjoyed wraps and milkshakes.
At the end of this much appreciated lunch, we dropped the girls off at the Beside Stillwater Boutique Hotel, to look for bicycle boxes to pack them up for the outbound flight. The bike shops spotted on the internet all turn out to be on the heights of the Umhlanga district. We spent another hour of pedalling in search of these stores. Ultimately, we managed to find four boxes after visiting three different stores. The problem was, we could not transport them, so we had to have them delivered. The manager of Specialized Umhlanga offered to bring everything to our hotel.
"A really kind guy."
---
Wednesday 6th of January
Rest day in Durban
Our last day of vacation in Durban was punctuated by the purchase of school books for the girls (their 'back to school day' was approaching); the packing of the four bikes; and the purchasing of flight tickets. The day ended with a superb early dinner (from 6:30 p.m. to 7:30 pm. – curfew) at Umhlanga Rocks.
---
Thursday

7th of January
Back to Cape Town
"End of the trip"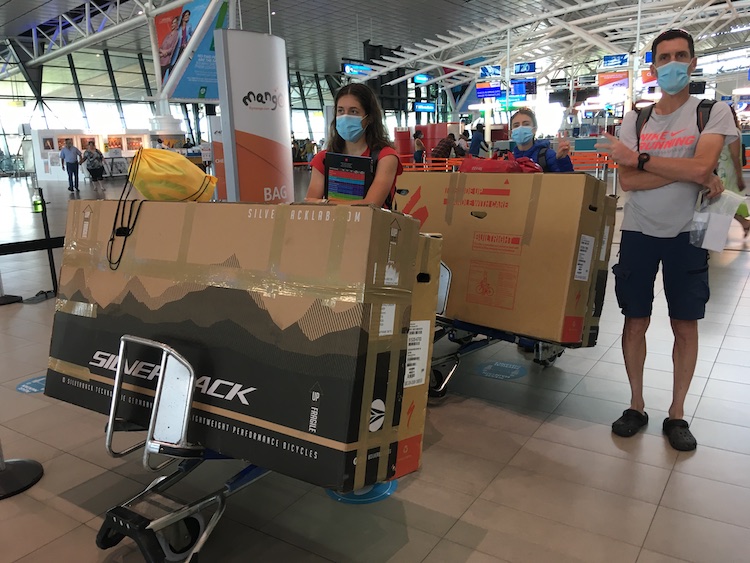 The day had finally come for us to return to our Cape Town home. We met at 10:00 am with Trevor the taxi, who arrived very early, at 9:30 am. at our hotel.
Of course, the girls had not packed their bags and they were determined to enjoy the swimming pool one last time.
However, at 10:02 am, we got into the taxi and were driven to King Shaka Airport (Famous Zulu King).
Everything went very smoothly at the airport, where we also had lunch. The return flight was very quick, much faster than going by bus!
In Cape Town, we met up with our dear friend Claudine who picked us up from the airport with our T4 van. We loaded the four bike boxes and finally went home.
The Great Lesotho Traverse adventure had come to an end. In total, we had ridden our bikes for more than 50 hours over 650km and managed 15000m of climbing.
Looking beyond the statistics, however, the emotions we experienced, and the memories we made, are both unique and infinite!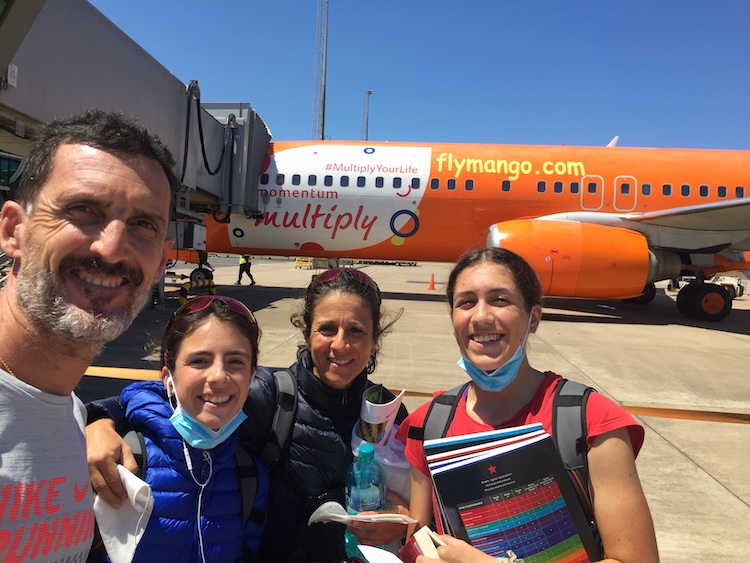 ---
Thanks
Claudine who looked after our house and took care of our dogs, during our absence.

The Latsetse people for accommodating us!

Charles and Leslie from warmshowers.org in Pietermaritzburg

Our families, our friends and, generally, all those who have followed us on social networks.

Johann and Dana who advised us on Lesotho

Romain LARONCHE, Olivier HARALAMBON, Jean-Pierre GIORGI, Sylvain BAZIN, Pat VDB who helped us inspire people while telling our story in the media.

Cape Town companies that helped us prepare for this expedition: Freewheel Cycology, East City Cycles, Enjoy, Ademas

On a more personal note, I would like to thank Emmanuelle, Capucine and Léna for joining me in this adventure!
Must know
Geography : Lesotho is a small landlocked country within

South Africa. Independent since 1966, Lesotho is today a kingdom ruled by King Leste III. As a former British colony, Lesotho is still part of the Commonwealth.


Lesotho is a very mountainous country, with its lowest point at 1400m altitude and its highest peak at 3482m… which explains its name: "the Kingdom in the Sky."




Very poor, Lesotho has about two million inhabitants, and life expectancy is estimated at 34.5 years.


Source Wikipedia: https: //fr.wikipedia .org / wiki / Lesotho
GPS Track
The GPS track of our trip: https://ridewithgps.com/routes/35036743
Equipment
– Bike: Specialized Chisel model 2021
– Groupes : Shimano Deore
– Wheels: DT Swiss RX1700 Boost 29 ''
– Tyres: Specialized Fast Track 2.35 with 50ml No Tubes preventative per tyre
– Bike packing Bags :
Helmets : Urge Papingo

Jersey: Enjoy Custom "Ubuntu" by WTS

Bottles: Zéfal Arctica 55 and 75 + Meltonic 55 and 75 ml

Sports nutrition:
Accommodation
Considering that we had chosen to avoid camping (in order to travel lighter), we had to find accommodation every day. In Lesotho, there is not much accommodation available, but you can consult the Google map that we have created: (Lien https://www.google.com/maps/d/u/0/edit?mid=1TnpfnnmbO9YKmX5A5ha74Xwsd4BLCeFU&usp=sharing)
=> The most pleasant ones were :
The Semonkong Lodge: Top!

Sani Mountain Lodge at the top of Sani Pass: a very comfortable little hotel (and backpacker) which is also the highest pub in Africa at 2800m altitude. A little expensive.

Sani Lodge Backpackers at the bottom of Sani Pass (South African side)
Social network
You can follow our bike packing adventures on Instagram: @thebicyclingfam
---
To Go Further – PRESS
---
FILM – The Great Lesotho Traverse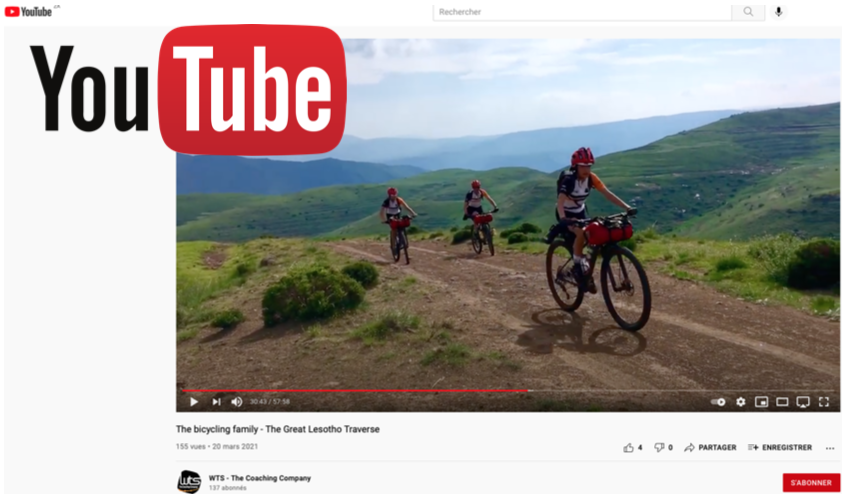 Original movie (duration 57′) – Have a great evening in "Lesotho" 🙂
---
---