Sunday, August 18 will start the Haute Route Alps in Geneva. We will use the last 10 days before D-Day to decrypt each of the 7 stages.
Stage 1
With a 4 stars ranking (out of 5), the first stage will be difficult to manage with 153km, 3 major climbs and 3300m ascent.
The main difficulty of the course will be two manage successively the two main climbs : col de l'Encrenaz and Col de Joux Plane, 28.5 km cumulative ascent with almost no recovery time.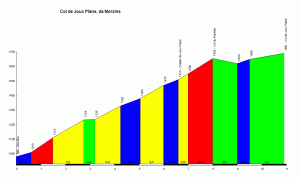 My advices
– Be carefull with the "euphoria" of the start, you have 25km untimed to warm up progressively before entering the timed section.
– Save energy for the second half of the week. Stay in your endurance zone (less than 90% of maximum heart rate), even in the climbs.
– Feed yourself regularly (water, energy drink, solid food) to avoid glycogen depletion.
– Be carefull with the Heineken booth after the finish line.
– Enjoy this unique moment 😉
Escort Coaching
WTS offers an escort coaching service for those who need to be coached during the race.
I'll be there throughout the race to specifically coach few riders.
To benefit from this service : http://www.hauteroutealps.org/en/training